top corner
Top Content Ideas for Your Poker Vlog
2085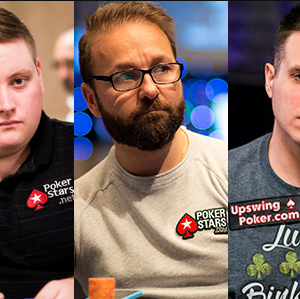 Are you thinking about becoming a poker vlogger or content creator? There are poker players and poker personalities that have been creating content for years and some have created quite the following. Some have also turned their vlogging into a profitable business.
If you are thinking about vlogging or creating content, today we will give you some ideas on content to create for your vlog.
Live Streaming Poker Play
A popular form of poker content is live-streaming online poker play. Players such as Jaime Staples and Brad Owen live stream cash games and online poker tournaments from online poker sites from around the world.
If you are planning on live streaming your online play, make sure that you are a regular winner at games. There's nothing more embarrassing than trying to show off your poker skills but finding that you're consistently losing at the tables.
Steams work best for those that regularly interact with their fans and give their thoughts on why they are making plays at the table. Twitch is still the top platform for this and will remain so for some time.
Strategy Videos
Another popular form of content is poker strategy videos. You can create videos where you break down certain strategy elements of Texas Hold'em or other poker games. These videos work best when you're covering fresh topics not covered elsewhere or giving extra value to existing information.
Stay away from just lecturing players. Rather, present real-world examples for these concepts. Preferably, you want to have live hands available where you can break down these concepts. If you ever watch strategy videos at poker training sites, they follow this tactic for many strategy topics.
Hand Breakdowns
Doug Polk and others have created popular videos where they break down big hands from cash games or live poker tournaments. You can choose to do the same or you can choose to break down online poker hands.
If you choose to do this, pick hands from games that have not been analyzed to death. Covering big hands from High Stakes Poker or the WSOP Main Event is old hat. Get something fresh to keep players engaged.
Interviews or Podcasts
Interviews or podcast-style content is generally a big hit amongst poker fans. If you have connections to players or poker industry personnel, consider conducting some regular interviews. Find topics that your players will enjoy and have some casual chats to delve deep into their lives.
Podcasts don't have to just involve interviews. You can also cover major news events in the poker world, preview upcoming events, or cover the latest poker Twitter feud. There are a lot of options for podcast content, so get creative.
Comedy Videos
There are some poker players that have decided to go the comedic route to create poker content. Remember SrslySirius? Thomas Keeling made a name for himself with various poker parody videos including "Party at the DOJ" and "Black and Yellow" where he parodied UB.
Other content creators, such as the recently retired Doug Polk, have gone the route of poking fun at the poker community. There is a fine line between being tasteful and offensive. Finding that line will get you a loyal following and may even get your content going viral in the poker community.
Plenty of Content to Get Ideas
Not quite sure which way to go for content? Why not poke around the internet and find out what other players and vloggers are doing. You can get an idea of what works, what bombs, and what was a good idea but was executed poorly.
Your best bet is to come up with a channel or vlog that is different from what's already out there. Short of that, taking ideas from things that have already worked will help you get your channel noticed.
bottom corner