top corner
Poker Central Announces Debut High Stakes Duel
2422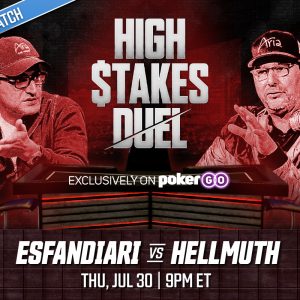 Poker Central has become famous for creating new and unique forms of poker entertainment. The company is at it again with their latest new creation, High Stakes Duel.
High Stakes Duel will feature a never before seen tournament format featuring several rounds of heads-up poker action from the world's top players. The event could prove very lucrative with the ultimate round having a prize pool of up $12.8 million.
Poker Central Introduces High Stakes Duel
On Wednesday, Poker Central issued a press release announcing High Stakes Duel, their newest poker series. Premiering on July 30th, the series will feature eight rounds of heads-up action.
Here is an explanation of the format as explained in the press release:
"The first round of "High Stakes Duel" has a $50,000 buy-in with the winner advancing to Round 2 of the battle. The loser in each round receives the option to challenge the victor for a rematch prior to the next round of the game being offered to any player willing to put up the money required. The stakes will double with each round, resulting in a potential total prize pool of $12,800,000 in Round 8. In order for a player to walk away victorious, they must win 3 straight matches before Round 6 or 2 in a row from Round 5 onward. If there are no challengers within 30 days of the previous match, the most recent winner also walks away victorious."
According to Poker Central Executive Producer and Poker Hall of Famer Mori Eskandani, "This series is different than anything we've created before in poker. If you're a fan of the game, you definitely don't want to miss this. The stakes and rivalries will be on another level."
What side are you on as @MagicAntonio and @phil_hellmuth square off on the felt inside the PokerGO Studio for the first-ever High Stakes Duel!https://t.co/99jETZZnqr

— Poker Central (@PokerCentral) July 22, 2020
Poker Central's Chief Business Officer J.R. McCabe also commented on the new show, stating, "We're constantly looking to create new formats and experiences in the game that will excite and entertain viewers3 With millions of dollars in prospective prize money, this series has the potential to be the highest stakes poker match ever to be shown on TV."
The first match in the series will be between Phil Hellmuth and Antonio Esfandiari. It will premier live on July 30th at 9PM ET on Poker Central.
Hellmuth and Esfandiari Eager to Get Started
The opening match will pit two fan favorites in Phil Hellmuth and Antonio Esfandiari. Better known as "The Poker Brat," Hellmuth has 15 World Series of Poker bracelets and over $23 million in tournament earnings. He also won the 2005 NBC Heads-Up Championship.
However, when it comes to playing Esfandiari, he has had mixed results. As he explained in the press release, "Antonio and I have a long history of playing poker together. From the time he came to my house as a young man and insisted we play heads up (he won), to the time we played televised cash games together (he won), to the NBC Heads Up Championship in 2005 – I won it all. Looking forward to this battle!"
Esfandiari is one of the more popular pros amongst fans and won the first-ever Big One For One Drop in 2012. He is also looking forward to the battle with Hellmuth as well as the rest of the series. He stated in the press release, "For 10 years I've been challenging Phil to a heads-up match where the winner shoots the loser with a taser gun – so going head-to-head in 'High Stakes Duel' has been a long time coming. The idea that the winner has to go double-or-nothing at least two more times after the first match is brilliant; it will be interesting to see who will go for the challenge and who will turn it down when it gets to a certain point."
High Stakes Duel can be watched exclusively at PokerGo. If you are not signed up, you can sign up today.
bottom corner