top corner
Poker Central Adds New Programs to PokerGO
2066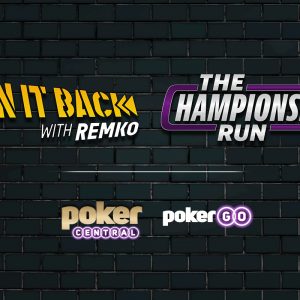 As reported last month, Poker Central now owns the rights to High Stakes Poker. Earlier this week, the company announced that Season 1 of the popular program is now available to stream on PokerGO. They also announced that plans for the revival series are well underway.
Also, Poker Central announced two new poker series that will look back at great moments in poker tournament history as well as provide fresh commentary on past poker programs.
High Stakes Poker Season 1 Now Online
On Monday, Poker Central sent out an alert informing viewers that Season 1 of High Stakes Poker is now on PokerGO. According to the release, subsequent seasons of the program will also be put up weekly, so there's plenty of content to look forward to.
According to the announcement, the planning phase for the revival series is "well underway." They encourage viewers to follow Poker Central on social media for announcements regarding commentators, players, sneak previews, and more.
High Stakes Poker crazy cooler 🥶

Los Angeles Lakers Owner $150,000 Poker Hand 👀#HighStakesPoker https://t.co/yRUh2AQ4nJ pic.twitter.com/nwNjgqWjWW

— Poker Central (@PokerCentral) March 25, 2020
Mori Eskandani will be the producer of the revival series, just as he was for the original seven seasons of the program. It is likely we will see stars from the original series return, such as Daniel Negreanu, Antonio Esfandiari, and even Doyle Brunson. Also, we can expect many modern-day stars to appear on the show. It will be interesting to see how many of the high stakes tournament crowd will feature on the program.
The Championship Run and Run It Back With Remko Premiere
On Thursday, Poker Central announced that two new programs will begin streaming on PokerGO. The first is The Championship Run. The Championship Run will look back to significant moments in poker tournament history. Jeff Platt will host the show and will analyze momentous hands in major tournament history.
The first episode will premier on Friday, March 27th and will feature Chris Moneymaker's run in the 2003 WSOP Main Event. As most of us know, Moneymaker's win is largely credited for starting the Poker Boom of the 2000s. Future episodes will premiere on Wednesdays and Fridays.
2⃣ brand new shows, 1⃣ place to watch. #RunItBack with @RemkoRinkema live Thursdays.#TheChampionshipRun with @jeffplatt every Wednesday & Friday.https://t.co/8kiZxTymEU

— PokerGO (@PokerGO) March 26, 2020
The other program to premiere on PokerGo is Run it Back With Remko. This show will be hosted by Remko Rinkema and will give fresh commentary to the poker shows of the past. You can expect commentary on Poker After Dark, High Stakes Poker, and more. Remko will be joined by a rotating cast of guest commentators.
In the premiere episode, Remko will be joined by Daniel Negreanu. The pair will commentate on a past episode of High Stakes Poker. The premier episode is Thursday, March 26 and subsequent episodes will air on Thursdays at 7 pm ET.
Sampson Simmons, President of Poker Central, commented on the shows, stating, "Poker players and fans are hungrier for content than ever before, especially in a time when we are all seeking entertainment from the safety of our homes.
These two series celebrate some of the most compelling moments in the game's history coupled with present-day poker insight and analysis. Our goal is to bring the spirit of the game to our viewers at home."
Programs May Be a Mixed Bag
When looking at both offerings, it will be interesting to see the reception. The Championship Run could be a fun look back at key moments in poker history, especially if it provides new information that's not generally known by poker fans.
I am a bit suspect about Run it Back With Remko. If all they are doing is picking a random episode and commentating, I could see this get boring quickly. However, if they go the route of cherry-picking programs featuring the guest commentators, then it could be fun. I will reserve judgment until after we see a couple of episodes.
bottom corner