top corner
Phil Hellmuth Wins 15th WSOP Bracelet – Salvages Disastrous Summer
612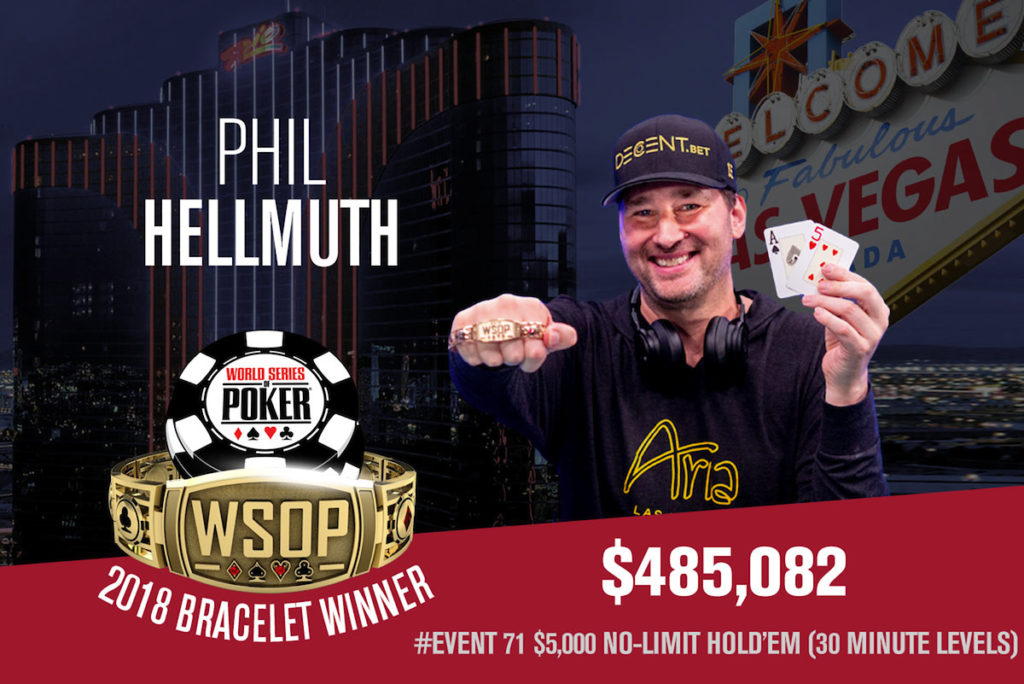 On Wednesday, the poker world was watching as the WSOP Main Event played down from 27 to the final table. Meanwhile, Event #71: $5,000 NL Hold'em (30-minute levels) was playing down to completion and the King of WSOP bracelets, Phil Hellmuth, was still in contention.
While he needed some help late from the poker gods, Hellmuth managed to silence his haters and take down his 15th career WSOP bracelet. This capped off what was one of the most challenging summers for Hellmuth.
Hellmuth Defeats Steven Wolansky Heads-Up For 15th Bracelet
Phil Hellmuth was among the final 39 players to return on Wednesday in the $5k Turbo and started near the middle of the pack. He may have finished well short of the final table if not for catching a two-outer to cripple Liv Boeree.
Well that was shitty few hours. Get my flopped set 2 outed by @phil_hellmuth for massive chiplead pot with 30 left in the 5k event… AND then #EnglandvsCroatia happens 30 mins later. pic.twitter.com/6a0vB7CX7G

— Liv Boeree (@Liv_Boeree) July 11, 2018
The hand Boeree referred to was a set-over-set confrontation. She flopped a set of fours but Hellmuth turned a set of eights. All of the chips went in on the turn and this left Boeree crippled with just 10k. He busted shortly thereafter.
Hellmuth played his "Phil Hellmuth-style" game and made the final table second in chips. Other notables making the final included Matt Glantz and bracelet winners Steven Wolansky and Paul Hoefer.
When Hellmuth makes the final table, he tends to be one of the smarter players and always manages to find his way to at least the top three. When this happens, he often finds a way to make it heads-up regardless of his stack.
That was the case Wednesday as he found himself the short stack with three players left. Hellmuth again needed to a little luck to continue as he was all-in with As-5d against pocket kings for Alan Sternberg. Hellmuth flopped an ace and turned two pair to double into second. Sternberg later fell in third place to set up a confrontation between Hellmuth and Steven Wolansky for the bracelet.
Wolansky led Hellmuth 6.3 million to 5 million at the start of heads-up play and at one point extended his lead more than 3:1. Hellmuth again needed a little White Magic to take the chip lead.
Hellmuth was all-in with Kd-10d and Wolansky called with Kh-Jh. Hellmuth was resigned to needing a ten but two diamonds on the flop gave him 12 outs. The turn missed both players but Hellmuth spiked a ten on the river to double into the chip lead.
Soon after, Hellmuth would take down his fifteen bracelet in dramatic fashion. Wolansky moved all-in with Ad-9c and Hellmuth snap-called with pocket threes. When the dealer turned over the flop, the door card was a nine but upon spreading them, the flop also contained a three to give Hellmuth a set against Wolansky's nines.
The turn 6d left Wolansky drawing dead and Hellmuth began to celebrate his 15th career bracelet victory. In addition to his bracelet win, Hellmuth also received $485,082 in prize money.
Hellmuth's Bracelet Win Comes After Disastrous Summer
This was beginning to look like the worst summer in history for the now 15-time WSOP champion. He started the summer amidst controversy on his charging 1.8 markup on his staking. Afterward, Hellmuth had a poor summer where he didn't even come close to the final table.
During the Main Event, Hellmuth drew more controversy when he berated James Campbell in a hand late in Day 2, and his antics many believed influenced the action and resulted in Campbell's elimination. Hellmuth later apologized for his antics and even bought Campbell into next year's Main Event.
When Hellmuth busted on Day 3, there were cheers from many in the crowd, not because they were happy about his run but happy he was out. Hellmuth talked about this to PokerNews, stating, "The fact is: when I busted out from the Main Event and the poker room was cheering, I was crushed. I was like 'oh my god, what did I do? Everyone is against me. It felt like such a low point for me in my career."
Hellmuth later bought Campbell into the Main Event and Campbell posted the following on Twitter:
We are already registered for the 2019 @WSOP Main Event! @phil_hellmuth is a man of his word. Thanks for recognizing your mistake and making the best of an unfortunate situation. Very generous of you! #StandUpGuy pic.twitter.com/VxpJ2hFqZm

— James Campbell (@JCamby33) July 10, 2018
Hellmuth later told PokerNews that his buying Campbell into next year's Main Event resulted in the "swingiest week" in his life after going from hundreds of negative tweets over his Main Event rant to people praising him for trying to make it right.
Apparently the poker gods liked the gesture as well as Hellmuth was able to come from behind in multiple all-in confrontations en route to his 15th bracelet.
Whether you love Phil or hate him, you can't help but respect his accomplishments. Mike Matusow may have said it best last night:
Is-not that @phil_hellmuth won his 15th that is impressive it's that he keeps winning every 3 yrs and no matter how good wizards get he keeps winning and all they do is disrespect and tell him how bad he is which is disgraceful. Maybe they should see all the good things he does

— Mike Matusow (@themouthmatusow) July 12, 2018
Congratulations Phil on #15. Can't wait to see you get to 20. You know it will happen. Even if it doesn't, good luck to anyone ever matching him.
bottom corner