top corner
Date for Round 2 of High Stakes Duel II Set
2999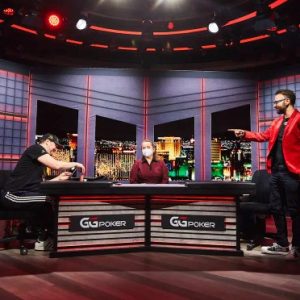 Phil Hellmuth recently defeated Daniel Negreanu in the first round of High Stakes Duel II. He made an incredible comeback down 97-3 to win $100,000. Negreanu will now try once again to dethrone Hellmuth as the dates for the second round have been set. The pair will play the second round on May 5th, with a prize of $200,000 on the line.
Meanwhile, Bryn Kenney is taking exception to claims that Phil Hellmuth is the greatest poker player of all time. As such, he is challenging Hellmuth to a heads-up match for $1 million with the proceeds going to charity.
High Stakes Duel II Second Round Slated for May 5th
The second round of High Stakes Duel II between Phil Hellmuth and Daniel Negreanu is now set for May 5th. Recently, Phil Hellmuth won Round 1 after making an incredible comeback against Negreanu. He was down to just $3k in chips against the $97k of Negreanu before Hellmuth mounted the improbable comeback.
Many people are putting money on Hellmuth to take down Negreanu once again, but Negreanu obviously is betting on himself.
Looking for action on the rematch laying -1.50 vs @phil_hellmuth

I'm struggling to find anyone who wants the other side at -1.50 so if I know you, and you want up to $200k let me know!

1.50 is a heavy price for a sit n' go! Come and get it!

— Daniel Negreanu (@RealKidPoker) April 1, 2021
While many consider Negreanu as one of the greatest poker players in history, he has not had the greatest luck in recent challenges. He went against Doug Polk in a grudge match where he was drastically outclassed and dropped $1 million.
Next, he went against Hellmuth and was not able to close the deal. The 15-time WSOP bracelet winner is known for being boisterous and having an ego, much like Negreanu. The difference is that Negreanu has been unable to back it up lately.
For this next round, we are still putting our money on Phil Hellmuth for the simple fact that this is a heads-up tournament. Negreanu may be able to crush him in cash games, but few can deny that Hellmuth is one of the greatest tournament players in history.
Actually, there is someone that disagrees and wants to put $1 million where his mouth is.
Bryn Kenney Challenges Phil Hellmuth to $1 Million Match
We all know about Phil Hellmuth's claims that White Magic is part of his secret to winning. He has also been spouting Apex Predator claims regarding his match against Antonio Esfandiari in High Stakes Duel I. One player that is tired of hearing these claims is Bryn Kenney.
Kenney recently took to Twitter to challenge Hellmuth to a $1 million match.
What's all this white magic and apexpredator shit I'm hearing @Phil_hellmuth . We know who is king of the hill, but if you want your shot at the top let's put up a million each and give the people what they want

— Bryn Kenney (@BrynKenney) April 3, 2021
As many of you know, Kenney is currently atop Poker's All-Time Money List with $56.4 million in career earnings. His largest score came in 2019 when he finished runner-up in the Triton Million for Charity event. He cut a deal with Aaron Zang and won enough money to move to #1 on the money list.
Since then, Kenney has only three live cashes and none since January 2020. Granted, some of that is due to the ongoing pandemic.
However, some feel that Kenney is trying to prove himself by taking down Hellmuth. Some feel that his stats are a bit bloated and he is doing this simply to become relevant again.
Kenney addressed these claims via Twitter:
Fine since people think I'm here for myself or to prove something, if @phil_hellmuth accepts the 1m$ challenge I'll donate 100% of the win to charity, 10k to 100 different places I feel are helping the world. Bang bang

— Bryn Kenney (@BrynKenney) April 5, 2021
By offering to make this a charity event, this does two things. First, it makes it all about the competition. Second, it makes it a bit more appealing to Hellmuth. Hellmuth is famous for his charity work, so turning this into a charity event could make it more appealing.
One could argue that Kenney stands a bit better chance against Hellmuth due to his scores in high-stakes poker tournaments. However, Hellmuth does have decades of experience over Kenney. This one may be closer to a coin flip, but we still have to give the 15-time WSOP champion the edge.
bottom corner