top corner
Aaron Zang Wins Triton Million Charity Event – Bryn Kenney #1 on All-Time Money List
1506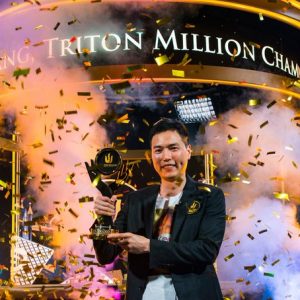 The richest poker tournament in history is officially in the books and we have a new #1 atop Poker's All-Time Money List. On Saturday, Aaron Zang took down the £1 million Triton Million – A Helping Hand for Charity Event for a prize of $16.75 million.
However, the player that walked away with the most money was Bryn Kenney who struck a deal heads-up with Zang and walked away with $20.53 million. As a result, Kenney becomes the first player in poker history to win $50 million in live poker tournaments and is now the new #1 atop Poker's All-Time Money List.
Multiple Players Had Shot to Become #1 on All-Time Money List
The Triton Million – A Helping Hand for Charity drew a strong field of 54 players and created a prize pool of £54 million. In addition, the event raised £2.7 million to help various charitable causes. By the time that the final table was reached, we had multiple people who could take over the top spot on Poker's All-Time Money List.
Stephen Chidwick, Dan Smith, and Bryn Kenney all came into the final table positioned to move to the top of Poker's All-Time Money List. Other players looking to make serious headway in their careers included Timothy Adams, Bill Perkins, Vivek Rajkumar, Aaron Zang, and Alfred DeCarolis.
Everyone at the final table was guaranteed at least $1.6 million but were all looking for what was supposed to be £19 million, or over $23 million USD. Vivek Rajkumar came into the final table as chip leader but fell off early, ultimately only finishing in fifth for $3.6 million. Bill Perkins busted one spot earlier and earned $2.66 million, the largest score of his poker career.
Stephen Chidwick failed to win the event, but he still finished in fourth, good for a $5.34 million payday. This was easily his largest career score and helped move him up to $30.5 million in earnings. He is now 8th on Poker's All-Time Money List.
Dan Smith also had a shot to become #1, but he fell in third place. He still earned a career-best $8.7 million and vaulted from 11th to 4th all-time, right behind Daniel Negreanu.
Aaron Zang Wins Tournmanet – Bryn Kenney Wins The Most Money
At the start of heads-up play, Bryn Kenney had a 5 to 1 chip lead over Aaron Zang and the pair decided to strike a deal. The deal saw Kenney get £16.89 million and Zang £13.77 million. From this point, it was all Zang as he quickly moved into the chip lead prior to the final hand.
In that hand, the flop fell 8s-4s-3 and Zang bet 2 million. Kenney check-raised to 5.77 million and Zang shoved. Kenney called and showed As-6s for flush draw and Zang showed 8d-5d for top pair. The turn and river both missed Kenney and Aaron Zang won the richest poker tournament in history.
Zang was very honored to win the tournament, saying that it was a dream come true. He reportedly made an additional cash donation for charity following his victory, but that amount was not disclosed.
Despite winning the tournament, Zang did not win the most prize money. He received $16.75 million compared to $20.53 million for Kenney. Zang moved up to 32nd on Poker's All-Time Money List with the win with a total of $17.63 million in earnings.
Kenney's big payday accomplished two things. First, he moved up to $55.5 million in live tournament earnings, becoming the first person to win more than $50 million in live poker tournaments. Also, he leapfrogged from 9th to 1st on Poker's All-Time Money List, surpassing Justin Bonomo by over $10 million.
Bow to Sensei.

Congratulations @BrynKenney on becoming poker's all-time money winner with an incredible $55M in live poker winnings.https://t.co/ggGm9vxQ08 pic.twitter.com/71DE0yEPsP

— PokerStarsBlog (@PokerStarsBlog) August 5, 2019
Following his big score, Kenney stated that he told people he would become #1 and now that he's atop the list, nobody will ever get it away from him. Time will tell whether he can back up those big words, but for now, he's got a good lead over the rest of the poker world.
bottom corner