top corner
Doug Polk Finishes Grudge Match With Daniel Negreanu
2848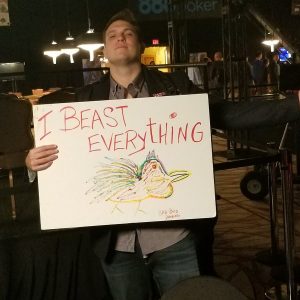 After several weeks of play, the grudge match between Daniel Negreanu and Doug Polk is finally over. The final session went down earlier this week and Polk put an exclamation mark on his victory. In a final session that saw a lot of variance for both players, Polk won $255,000 to push his total winnings past $1 million for the challenge.
With the challenge now over, Polk spoke as to why he through Negreanu lost as he did and his opinions on KidPoker's overall play. It also appears that Polk is ready to head back into retirement.
Doug Polk Wins $1.2 Million Against Daniel Negreanu
The final day of the challenge between Doug Polk and Daniel Negreanu kicked off on Wednesday and it proved to be an epic showdown between the two. Early on, it appeared that Negreanu would make a run at a big win. He quickly runs up a $120k lead over Polk and even Jamie Kerstetter was admitting that many of Polk's supporters were getting bummed.
Then, everything that could happen right for Doug started happening. He started winning big hands and began crushing Negreanu across the board. The deck then started hitting Polk in the face. He quickly erased his deficit and then went on a huge winning streak.
Session: +$255,722 over 1718 hands

Total: +$1,200,000 over 25000 hands

We won guys. We did it.

— Doug Polk (@DougPolkVids) February 4, 2021
By the time the final hand was dealt, Polk was up $255,000. This allowed him to finish up $1.2 million for the challenge. That amount might have been bigger except that Negreanu was able to pick off a couple of sizable bluffs during the middle of Polk's run. Otherwise, Polk might have finished up $255k for the session.
After 1,718 hands, Polk finished loading up the truck to the tune of $1.2 million. The next day, Polk broke down his thoughts on Negreanu's game and why Negreanu was crushed in this contest.
Polk Calls Negreanu a Good Heads-Up Player But Points Out Leaks
As this challenge has progressed, Polk has regularly complimented Negreanu for being able to hang with him. This continued in the post-match analysis from Polk. Despite winning $1.2 million against Negreanu, Polk called Negreanu a good heads-up NL Hold'em player. He even stated that unless you're a top-level heads-up player, Negreanu will crush you.
With the challenge over, it's time to share my true thoughts on how Negreanu played https://t.co/oWvRpJADJU pic.twitter.com/e9oWGTMVpC

— Doug Polk (@DougPolkVids) February 4, 2021
Polk also spoke on some of Negreanu's leaks in the game. He believes Negreanu's biggest weakness was that he played certain spots too timidly and did not fight for every pot as he should. Polk said that he believed that he won 52 to 53 percent of all hands and that Negreanu was crushed in non-showdown hands.
Polk also threw some shade at Negreanu's training staff, stating that he would have picked heads-up experts as coaches. He said that Negreanu should have reached out to players who actually crush high stakes rather than eliciting help from standard Hold'em and poker players.
Polk Blowout Was Not Expected But Not Surprising in the End
Back when I first started reporting on this challenge, I predicted Polk to win, but the match to be closer than it turned out. I expected Negreanu to lose between $100k to $250k. However, as things played out, it was clear that Polk wanted it more and is just at another level when compared to Negreanu.
Listening to the two talk during the challenge was like listening to players talk about chess and checkers. Negreanu was playing checkers and Polk was a chess Grandmaster. Polk spoke about the amount of work he put into the game, effectively reinventing himself for the challenge.
Negreanu was at a disadvantage from the onset, but couple that with Polk's desire to crush it, and it is clear Negreanu never had a legitimate shot to begin with. Yes, people will say they should have played live poker the whole time, but the fact was that this was an online challenge, and Polk is clearly a genius at heads-up NL Hold'em.
The sad part of this, in the end, is that we have probably seen the last of Doug Polk at a serious level of poker. He has repeatedly said that he does not enjoy the game and does not wish to continue playing. He may play occasionally, but the odds of seeing anything as we have in the last few weeks is unlikely.
Personally, I hope Doug can find something he can pour his creative genius into and find happiness in it.
bottom corner