top corner
Poker Millionaires Record Will Not Be Broken Again in 2020
2585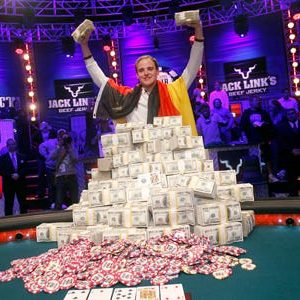 We are all well aware of the havoc wrecked on the poker world due to COVID-19. Poker events have been canceled, delayed, or moved online. The landscape of poker is constantly in flux, and it is hard to say what will happen in the near future.
One thing we know for sure is that the record for poker millionaires will not be broken again in 2020. We reported earlier this year that the number of poker millionaires was shrinking, and the continued pandemic has ended any chance of last year's record being broken.
Only 21 Poker Millionaires Through September
Not surprisingly, the number of poker millionaires has not gone up, at least according to the stats over on Hendon Mob. Through the end of September, only 21 players have won $1 million or more in live poker tournaments.
Timothy Adams holds the top spot with $5.8 million. The next closest player is Aussie Kahle Burns with $2.9 million. Mikita Badziakouski, Paul Phau, and Cary Katz round out the top five. Only seven players have won more than $2 million in live poker tournaments in 2020 and unless something changes between now and December, it is very unlikely we will see any significant growth on this list.
Just weeks after taking down the Super High Roller Bowl Australia for $1.4 million, Timothy Adams has won the SHRB Russia for $3.6 million.https://t.co/oylqK6lqD5

— PocketFives (@PocketFives) March 16, 2020
This will end the streak of record poker millionaires that dates back to 2017. Each year since 2017, the number of poker millionaires has increased. Last year, the record was set at 157. Bryn Kenney set the single-season record for live poker earnings at $30.32 million and also took over the #1 spot on Poker's All-Time Money List.
It was clear early this year that the record would not be broken again in 2020. However, few expected the pandemic to reduce live poker to the levels it has. The last time we saw this few poker millionaires in a year was 2004, the year after Chris Moneymaker's historic win.
Of course, we all know that the numbers on any money list are skewed thanks to the number of major events held online. This begs a new question of whether the All-Time Money List is still even viable.
Online Poker Numbers Skew Everything This Year
There's always been an argument that we don't know the true top winners in the poker world because online earnings are not efficiently tracked. After 2020, you can expect more people to call numbers on sites like Hendon Mob as skewed as many don't include tournaments like the 2020 WSOP Online.
The WSOP Online, the 2020 Poker Masters, and many other events moved online due to the pandemic. Hundred of millions in prize money has been awarded to players over the last six months or so, including record prizes over at GGPoker.
More than $10.5 million in prize money has already been paid out through the first 11 events of the Poker Masters Online series.

Alex Foxen, Andras Nemeth, Kahle Burns, and Michael Addamo are among the early winners.

STORY: https://t.co/CSLLccRLLJ pic.twitter.com/EiLBpfqh7t

— Card Player: The Poker Authority (@CardPlayerMedia) April 17, 2020
Some sites track some of the major scores, such as the winners of the WSOP Online Main Event, but not all sites bother. This makes the numbers on sites like Hendon Mob a bit skewed as they don't include relevant data. So what happens now?
Revamps or Redesigns Needed
The first thing that needs to happen is Hendon Mob or some organization needs to come along and make a comprehensive database that combines both live tournaments and online poker tournament winnings across the board. Anything less is going to make overall numbers on many sites irrelevant.
It's obvious to state that Hendon Mob numbers are becoming less relevant due to the pandemic, and as operators recognize the potential of major online poker events like the Poker Master Online, the more large events we will see.
In a perfect world, we would see PocketFive, Hendon Mob, CardPlayers, and others come together to make a comprehensive database to take the best of all parts to make a viable poker tracking system. That way we can truly determine the top winners in poker and end the argument over whether the All-Time Money List is a true indicator of all-time greatness.
bottom corner