top corner
Record Number of Poker Millionaires to Be Set in 2017
22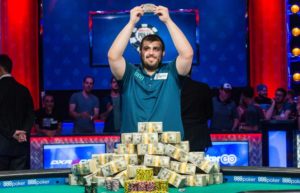 Prior to the Poker Boom, it was rare for a person to win $1 million or more in a year. In fact, many years the only way a person could do so was to win the WSOP Main Event.
Things changed following the Poker Boom and we started seeing more players win more than $1 million in a year. After the onset of High Roller tournaments, it wasn't uncommon to see 50 to 75 players a year win a million.
Last year, we saw more than 100 people win more than $1 million in a single year. 104 to be exact. You'd think that such a feat would be hard to duplicate, but not so in this High Roller era.
In fact, through Monday there are 98 players with at least $1 million in earnings in 2017. With three months left and events such as the WSOP Europe upcoming, we could easily see last year's record shattered.
Scott Blumstein and Bryn Kenny Atop 2017 Money List
Looking at the top 5 on the 2017 Money List, you'll find a virtual Who's Who of the poker world, especially the High Stakes world. The only exception is the top spot which belongs to WSOP Main Event champion Scott Blumstein. He leads all players with $8.17 million.
Bryn Kenney is right behind with $7.32 million. Kenney has been on fire all year, winning multiple High Roller events, including the €100k Super High Roller at the PokerStars Championship Bahamas. His most recent win was during the Poker Masters. He took down Event #3 for $960,000.
The top 5 on this year's money list have all won at least $5 million. Here's a quick look at the top 5:
Scott Blumstein – $8,172,509
Bryn Kenney – $7,325,894
Christoph Vogelsang – $6,884,857
Steffen Sontheimer – $5,787,789
Jake Schindler – $5,620,110
21 Players With More Than 3 Million in Earnings
In the past, winning $3 million in a year would make you that year's money leader. Now, it might get you in the top 20. Presently there are 21 players that have won at least $3 million. Including the names previously mentioned, other players with more than $3 million in earnings this year include David Peters, Dario Sammartino, Byron Kaverman, Jason Koon, Justin Bonomo, Fedor Holz, Doug Polk and WSOP Main Event runner-up Daniel Ott.
There are also 13 more people with at least $2 million in earnings. Back in 2003, Chris Moneymaker won $2 million for the 2003 WSOP Main Event and won that year's money title by over $1 million. A $2 million win now will get you in the top 40 at best.
High Rollers Have Forever Skewed the Money List
There are 98 players presently with $1 million or more and another 27 players who are $200k or less from cracking $1 million. Phil Hellmuth presently has $983k and will likely crack $1 million at the WSOP Europe.
While the poker boom certainly caused an influx of annual poker millionaires, the recent explosion of High Roller tournaments has forever skewed the money list both annually and historically. For example, Fedor Holz is already #5 on the All-Time Money List despite only having cashes that date back to 2012.
How is that possible? High Roller tournaments. If you remember, Holz won over $16.48 million in live events in 2016 with the majority of those earnings coming in High Roller events. If you take a look at the histories of most of the players in the top 20 of the Money List the last 3 or 4 years, most of their cashes will be High Roller scores.
Erik Seidel resurrected his career and has stayed relevant in the poker community thanks to High Roller tournaments. He is likely to overtake Daniel Negreanu for #1 on the All-Time Money List sometime in the next year or so unless Negreanu continues to play well in high-stakes tournaments.
High Roller events have now become showcases for the top players in the world, but at the same time have skewed poker stats to the point where the average pro simply cannot hope to compete for any of the All-Time cash records. Unfortunately, that is a result of the evolution of poker. It will be interesting to see how many millionaires that poker makes by the end of 2017 – and whether that number gets shattered in 2018.
bottom corner