top corner
Doug Polk Erases Deficit in First Online Session of Grudge Match
2665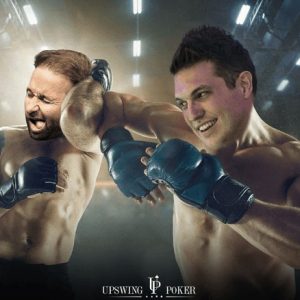 The first session of the Doug Polk – Daniel Negreanu grudge match went the way of Negreanu. However, things switched to the virtual felt on Friday and we saw fortunes change in Polk's favor.
After a 424 hand session on Friday, Polk finished up over $218,000. This completely erased his deficit to Negreanu and puts him up over $101,000.
First Online Session Goes Polk's Way
The poker world gave massive coverage to the opening round of the Negreanu-Polk grudge match. Negreanu was able to win $117k and most were saying that Negreanu "crushed" Polk. Back when we reported on the opening match, I said that Polk would likely whittle away at the lead. Apparently, I don't know what the word whittle means.
Polk came out of the gates swinging and soon ended up building a massive lead over Negreanu. It started with a $92k pot where Negreanu shoved with a flush draw against two pair for Polk. The flush didn't get there and Polk had a nice lead.
A while later, Negreanu lost an $80k pot in a full house over full house situation. On the river, the board was 8d-5h-8s-8h-9d and Polk shoved into Negreanu. Negreanu called with 9c-7c for eights full. However, Polk showed pocket aces for a better full house.
Those were two of the larger pot, but most things seemed to go Polk's way during the session. In the end, he was able to win $218,292.78 over 424. This completely erased Polk's deficit from the first 200 hands and put him up $101,792.78.
A nice session boosts Doug into a six-figure lead vs Negreanu!

Stay updated on the ups and downs of the challenge as it progresses here: https://t.co/CRE8wZtBFo https://t.co/aUpcpiNxXO

— UpswingPoker (@UpswingPoker) November 7, 2020
Battle of Two Streams
Starting with Friday's session, the action was streamed on Youtube by both GGPoker and Upswing Poker. Doug's stream featured Jamie Kerstetter while GGPoker's stream featured Koray Tucker. It was widely agreed by many that the GGPoker stream was much more watchable than the Kerstetter ran stream.
Wanted to watch Doug Polk-Daniel Negreanu today on GGPoker, but the live stream is not up yet.

So I had to switch over to the Polk Twitch feed to watch it, but that meant I had to mute @JamieKerstetter.

— Norman Chad (@NormanChad) November 6, 2020
The quality of the Kerstetter stream was a bit lacking and was very garbled at times. The amount of attention to the poker play was also less than some would have liked. You can check out a replay of the stream here:
The GGPoker stream came across as more professional and the commentators focused a lot more on poker. If you love in-depth technical analysis of hands, then this is the stream for you.
Here is a link to some of the highlights of the stream along with some interview bits with Negreanu inserted:
I will admit, I would have much rather seen a stream featuring the players rather than commentators. This would have made for more compelling commentary. As it stands, I will likely stick with the GGPoker stream for any future sessions.
What to Expect From Here
We are only about 600 hands into this marathon session, so things will swing wildly over the next couple of weeks. However, the first online session appears to show that Polk has a clear advantage over Negreanu.
Of course, Polk was the first to admit that he ran well in key spots. About half of his win could be attributed to two big pots. If those pots flip to Negreanu, the two would go into the next session even instead of Polk up.
I'm sticking with my initial prediction that Polk will take this series down, but it will not be a blowout. At some point, Negreanu is going to run hot online and give Polk fits. However, Polk has too much experience in the heads-up NL game for Negreanu to overcome.
The next session for this series is scheduled for Monday. It is unknown how many hands they will play, but the poker world will certainly be watching.
bottom corner