top corner
Daniel Negreanu Down $1 Million Against Doug Polk
2818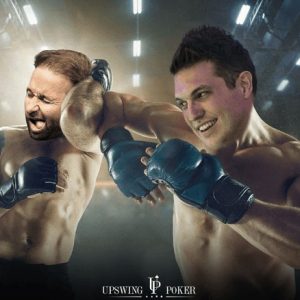 If you listen to Daniel Negreanu talk, Doug Polk is one of the luckiest players in the world. However, the stats are showing that Polk is just absolutely crushing Negreanu in the grudge match.
After a bit of a comeback, Negreanu has been on a freefall. He is now down over $1 million to Polk. At this point, it will take a miracle for Negreanu to come back.
Negreanu Gains Wiped Out and then Some
After Negreanu decided to continue playing in the grudge match to its conclusion, I stated that Daniel needed to show some consistency if he were to get back into the match. To his credit, Negreanu did just that. He cut his deficit by about half after going on a winning streak of five matches.
He put together wins of $40k, $27k, $98.5k, $27.9k, and a nice win of $132k on the 11th. At that point, Negreanu was down about $484,000, and some wondered whether the tide was turning.
However, as has been the case in this match, when Negreanu has been making headway, Polk has found a way to come back. On the 13th, Polk won $119 to put himself back up over $600k for the match.
Polk then won $26k last Friday and $73.7k on Monday before he opened a can of whoop-ass on Negreanu on Wednesday. On Wednesday, Polk took $298,984 from Negreanu over the course of 770 hands. This put Polk over the $1 million mark in the match. He has won $1,002,595 from Negreanu.
If you were to ask Negreanu, Polk is running insanely lucky. However, Polk believes that it is Negreanu that has been lucky and that his deficit to Polk could be a lot larger.
The @DougPolkVids 🆚 Dnegs Post-Game Interview Mash-Up (Part 1/4) pic.twitter.com/c4fPX8Yt3O

— 🃏 David Lappin 🃏 (@dklappin) January 19, 2021
Negreanu Coming Across Like Someone in Over Their Head
I listen to both Negreanu and Polk talk about this grudge match and you can hear the clear advantage that Polk had over Negreanu. When talking about hands, Polk analyzes the hand to a degree that you'd expect to hear from a world-class heads-up player. Negreanu seems to have nothing but excuses, even to the point where he is speculating that things could be rigged on the site.
What appears to be happening is that Negreanu is being exposed to being a weak online poker player. He is best known for his ability to win millions in live poker, but he has never been known to be a Patrik Antonius or Isildur when it comes to online poker.
Of course, we know all about Doug Polk's history. Most of his career was made off of his online exploits. While he has enjoyed some success in the live arena, his online play is the stuff of legends.
How Much Will Negreanu Lose Before It Ends?
I never thought that Daniel Negreanu would win this grudge match. However, I expected the match to be much closer than it actually has been. I figured that Polk would be too rusty to play effectively. However, it is clear that I've overly underestimated Polk in this match.
That's not to say that Polk hasn't run well in certain spots. He has. However, he has also shown brilliance in his play. The same can't be said for Negreanu, at least in my opinion.
At this point, I not only expect Negreanu to lose, but I would not be surprised if the final figure is between $500k to $1 million. I don't expect Negreanu to make a monster comeback to win. With just over 7,000 hands left, he may get some money back, but Polk would have to forget how to play poker to finish any less than $500,000 up.
bottom corner