top corner
5 Advantages to Being a Sponsored Poker Pro
Advantages Sponsored Poker Pro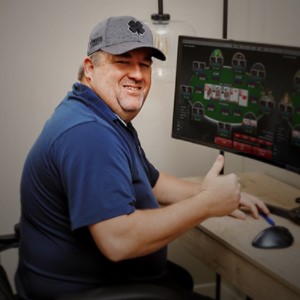 Online poker site sponsorships are harder to come by nowadays. That's because online poker sites are being more selective about whom they sign to a deal. Some deals, such as Chris Moneymaker signing with ACR, are no-brainers Other deals require that a player bring a little something extra to the table.
However, in the end, signing a poker sponsorship can be a great milestone in a poker pro's career. Today, we present 5 advantages to being a sponsored poker pro.
Increased Exposure
From the moment it is announced that you're a pro at a poker site, you will have greater exposure to the poker world. For starters, your name and face will be plastered on the website along with various promotional materials from the company.
Chances are that you will also be required to conduct various interviews in conjunction with your sponsorship, and these interviews will be published and broadcast all over the world. This will get your name out there to the point where even some casual poker fans will know of you. The level of exposure will depend on the sponsorship deal and what services you provide to the company as part of your sponsorships.
Poker Tournament and Cash Game Buy-Ins
It wouldn't make sense to be a poker pro if you don't play poker. As such, you will be required to play poker while representing the website. The great part is that your site will cover your buy-ins for online poker tournaments and even poker cash games. How much they cover will depend on whatever contract is negotiated.
If you happen to play live events for the poker site, you will usually have your travel expenses covered. This includes hotels, travel, and even incidental expenses. Considering how expensive live tournament play can get, this is a huge perk of being a sponsored pro.
Better still, whatever you win on their dime is yours to keep. It isn't like being a shill at a live poker room as shills have to give their winnings to the casino. In this case, you get to keep your winnings.
Secondary Income Stream
While getting your buy-ins covered by the poker site is great, many poker pros also receive a salary as part of their sponsorship. Again, how much you make is based on your contract and what services you provide. For example, someone that is just a blogger and vlogging poker tournaments is going to be paid differently than a WSOP bracelet winner that's traveling around the world playing tournaments for the company.
This salary can be a nice way to supplement your bankroll or could be enough to cover your monthly expenses. For example, we suspect that Daniel Negreanu's deal with GGPoker is taking care of his regular expenses, allowing him to basically freeroll poker.
Networking With Poker Industry Professionals
A great long-term advantage of being a sponsored pro is that you get to connect and network with various poker industry professionals. Whether part of the site you work with or in connection with your duties for the site, you will gain connections with people that can help you further your poker career both on the felt and beyond. Some sponsored pros have gone on to work in other areas of the poker industry thanks to the connections made as a pro. Some of these positions are with the company that originally sponsored them while others go to other companies.
Other Opportunities Will Present Themselves
Often, a poker site sponsorship is a stepping stone to greater things. For some pros, sponsorship is one way to move up in stakes or play larger poker tournaments. Other pros move on to bigger and better things. Pros can get gigs on TV, moves, and much more. Some move on to run their own businesses. In some cases, such as Phil Ivey or Phil Galfond, they move on to run their own online poker sites. These opportunities came directly from or in part because the person was a sponsored poker pro.
bottom corner