top corner
Chris Moneymaker Signs With Americas Cardroom
2845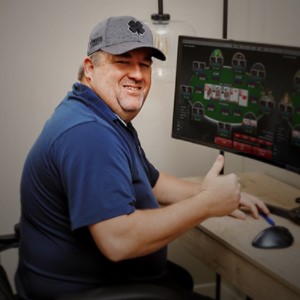 You may remember that Chris Moneymaker left PokerStars on the last day of 2020. At the time, his future was uncertain, but many assumed that he would not stay away from poker for long.
On Thursday, America's Cardroom announced that Chris Moneymaker has signed as their newest ambassador. According to the 2003 WSOP Main Event Champ, he likes the direction that the company is headed and decided to sign with them rather than stay with PokerStars.
Chris Moneymaker Signs With ACR
In a move that comes as a bit of a surprise, Poker Hall of Famer Chris Moneymaker has signed with America's Cardroom. The company announced the signing on Thursday via a press release on Poker.Org. According to Moneymaker, "I'm 45 years old, I've got three kids, I can't not work. But I'm not qualified for anything anymore. I couldn't do your taxes as good as H&R Block could. My only qualification at this point in life is, 'do you want fries with that?'"
After leaving PokerStars, Moneymaker was weighing his options. His options included a potential opening of a poker room in Texas. Moneymaker has been playing more online poker and has been enjoying positive results. This led to a conversation with ACR CEO Phil Nagy.
According to Moneymaker, "Somehow we started a conversation. I heard what (ACR) was doing, and I heard all the improvements they've been making to the site and how they're fighting bots. And basically to me it seemed like PokerStars did back in 2004, 2005. They're really trying to grow the game."
Playing Online Poker From Home a Big Factor in Decision
As you already know, PokerStars is only available in three US states. This made Moneymaker's options limited for playing online poker. He would have to physically travel to one of those states to play for PokerStars.
The biggest online poker news of 2021 has already happened!@CMONEYMAKER has just come onboard as an #ACRTeamPro. Check out this video of our other ACR Pros on how Chris personally inspired them.https://t.co/nabW71WRs5#VenomTournament #ACR #moneymaker #chrismoneymaker pic.twitter.com/coQTkZptD3

— Americas Cardroom (@ACR_POKER) February 3, 2021
With the ongoing global pandemic, traveling to other states to play online poker was not viable. Moneymaker stated that he wanted to be able to play at the site he represents. "I could be locked up in my house for another six months or a year. I want to be able to play poker and be proud of being able to play and support the site that I'm playing on, and that was ACR."
Moneymaker also hinted that he could have signed with PokerStars for another year and not did much to earn his contract money. However, this did not appeal to him. As such, he can now play poker from his home in Mississippi.
Moneymaker joins a growing roster of ACR pros, including Jeff Boski and Ryan Depaulo. He has already started playing on the site and is playing a mixture of poker tournaments and $25/$50 Pot-Limit Omaha. Moneymaker says he will probably mix it up in lower stakes poker cash games and tournaments in the near future.
Good Move for Site – But ACR is Still Unregulated
Looking at the move from a purely business perspective, ACR's signing of Chris Moneymaker is one of the biggest dealers outside of GGPoker signing Daniel Negreanu. In terms of poker ambassadorship, you can't do much better than Moneymaker.
Working again, retirement was too boring. Fun day

— Chris Moneymaker (@CMONEYMAKER) February 3, 2021
However, this does not change the fact that America's Cardroom is still an unregulated online poker room in the United States. It is illegal to play at the site in Nevada, New Jersey, Delaware, Michigan, West Virginia, Pennsylvania, and Washington State.
While it seems increasingly unlikely that the DOJ will prosecute ACR in the near future, there are no guarantees that it will not happen. At that point, Moneymaker may face legal ramifications for his choice. In the meantime, you will find him grinding the table of ACR and soaking in that sweet sponsorship money.
bottom corner