top corner
Introduction to Freeroll Poker Tournaments
2478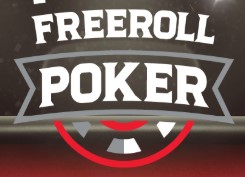 Online Poker is the largest form of poker in the world. With hundreds of sites available all around the world, it is as simple to play poker as it is to log in to your computer. However, some players are afraid to deposit money onto a poker site either due to safety concerns or in some cases, legal concerns.
The good news is that there are ways to earn a bankroll online without depositing a dime, and is done through the use of freeroll poker tournaments. Today, we will give you a brief introduction to freeroll tournaments and how they can help you build your online poker bankroll.
What Are Freeroll Tournaments
Freeroll tournaments are events held by online sites that allow players to play for cash and prizes without having to put up a buy-in. The prize pool is usually small, such as $50 or $100. Often, the winners may not win any more than $5 or $10.
However, any money won in the event can be used in any real money games on the site. Since all sites have micro stakes cash games and online poker tournaments, you can get a few buy-ins for these games through freerolls.
What Are The Differences Between Freerolls and Normal Tournaments
Aside from the free buy-in amount, the first thing you will notice about freeroll tournaments is that they typically pay a much smaller percentage of the field than a normal tournament. Where a normal tournament may pay the top 10 to 15% of the field, you will be lucky if most freerolls pay 5% of the field. Sometimes, you will have only the top 1%.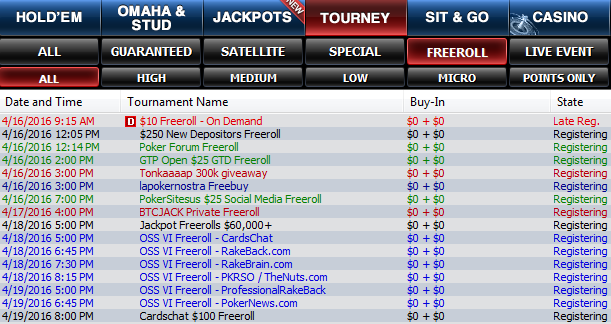 For example, a tournament with 10,000 players may only pay 50 players. The amounts won will also be very small. For example, a freeroll paying out $50 to players may only award from .05 to .50 for the bottom finishers in the tournament.
In addition, these tournaments will tend to be much more hyper-aggressive than even the lowest buy-in tournaments. The reason is that players must accumulate chips in order to have any legitimate shot of going deep and the other is that since the buy-ins are free, many players figure they can gamble it up.
Beware Hybrid Freerolls
A true freeroll tournament never requires a buy-in to play and is a freezeout event. With the rise of re-entry tournaments, there are many hybrid freeroll tournaments where you can enter for free but then you can pay to add-on or re-enter.
These are not true freeroll tournaments as it is extremely difficult to go deep on just the freeroll entry.
Are They Worth Playing?
Whether freerolls are of value to players depends on the individual. Are you playing to build a bankroll and don't want to deposit? In that case, these may be of value. The same holds true if you're playing on a site where you don't have a viable option to make a deposit.
If you already have an online bankroll, these events may not be the best use of your time. Most events pay a very small amount to first place, such as $5 to $10 and you'll have to play several hours to win. You would be better suited to play a couple of $1 Sit-N-Go's. Even playing one at a time, you could make $8 to $10 in an hour or two max.
For those out there looking to make a bankroll out of nothing, freerolls offer you that chance. Annette Obrestad is famous for being one of many players that built an initial bankroll from freeroll tournaments and never looked back. I am not saying you will be the next poker superstar starting off with freeroll tournaments, but you may be able to win yourself enough to get yourself into the game.
bottom corner