top corner
2021 WSOP to Start September 30th
2021 Wsop To Start September 30th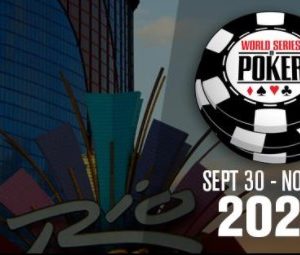 April 1st is usually a day we don't believe anything that we read in the poker world. However, the World Series of Poker chose April 1st to make the most epic poker announcement of 2021. The LIVE 2021 World Series of Poker is officially happening!
The 2021 WSOP will run from September 30 through November 23rd at the RIO in Las Vegas. It will be preceded by a return of the 2021 World Series of Poker Online. Following the 2021 WSOP in Las Vegas, the 2021 World Series of Poker Europe is tentatively scheduled.
2021 World Series of Poker to Run This Fall
Both Kevmath and Daniel Negreanu were proven right regarding their predictions for the 2021 WSOP. On Thursday, WSOP officials announced that the 2021 World Series of Poker will be held from September 30th through November 23rd at Rio All-Suite Hotel & Casino in Las Vegas. Many feel this will be the last time the WSOP will run at the Rio.
The opening weekend of the 2021 WSOP will be huge. A special charity event to benefit frontline health workers will run as well as a $25,000 HORSE event. Finally, a $25,000 NL Hold'em Event with a $5M Guarantee will run entitled "The Reunion."
Other events have yet to be announced at this time but the WSOP says it will release a full schedule by the Summer. Officials are still determining what COVID protocols they will follow during the series. A lot will depend on how things run in the lead-up to the series.
This isn't an April Fools' Joke : the WSOP is back. We couldn't wait another day to share the good news :
– WSOP back in-person from Sept. 30 to Nov. 23 at @RioVegas
– Summer to see the return of WSOP Online
– WSOP Europe @PokerroomKings to round out 2021https://t.co/kOacLy6PaE pic.twitter.com/srNDjnxSXt

— WSOP (@WSOP) April 1, 2021
The 2021 WSOP Main Event will run from November 4th through 17th. This year, there will be four starting flights running November 4th through 7th. Day 2 will play out on November 8th and 9th. The remaining players will combine to play the series out starting November 10th.
According to WSOP Executive Director Ty Stewart, "This year, more than ever, we embrace our role at the WSOP to deliver memorable experiences and bring this community of poker lovers back together. In 2021, the theme is, get vaccinated and get back to Vegas."
The WSOP Online to Return
Building up to the live 2021 WSOP, the World Series of Poker Online will return this summer. WSOP.com will hold a domestic WSOP Online starting on July 1st. It is uncertain how long the series will run, but full details will be revealed on April 15th at WSOP.com.
The International leg of the WSOP Online will also run with details on the series to be revealed after the domestic leg. It is uncertain whether these events will award WSOP bracelets or simply be online poker tournaments.
WSOP Europe May Return This Fall
Tentatively, the 2021 WSOP Europe will make its return this fall at King's Casino in Rozvadov. The event is scheduled for November 19th through December 8th. A lot of this will depend on where whether travel restrictions are eased around the world. WSOP officials expect that to be the case, but time will tell.
Ok guys this is it. Our one chance, one opportunity to turn this awful situation into positive change. Lets not let it slip. Let's reclaim our summers and make this the new permanent @wsop schedule. Please. Whatever it takes. https://t.co/uiaQ4yMZHM

— Olivier Busquet (@olivierbusquet) April 1, 2021
If the WSOP Europe is held, there will be 15 gold bracelet events. They will include the WSOP Europe Main Event and a 50 Euro High Roller.
Good News But Don't Be Surprised to See WSOP Europe Canceled
For those hoping to go to Las Vegas to compete for a WSOP bracelet, this news could not have been more welcome. From the length of the series, it is clear that WSOP officials hope to hold a complete schedule of events. This will be the biggest step toward "poker normalcy" that we've had since the start of the pandemic.
With that said, don't be surprised if the WSOP is forced to conduct an about-face on the WSOP Europe. While the US is likely to ease travel restrictions enough to allow the WSOP in Vegas, it's hard to see the rest of the world fall in line by November. As such, we may have to wait until 2022 to see the WSOP Europe return.
bottom corner