top corner
Are WSOP Bracelets on Par With Super Bowl Rings?
2923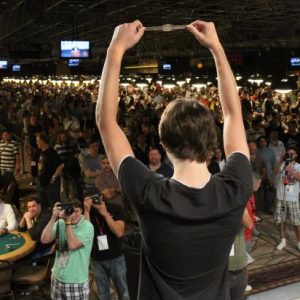 Jason Koon really stepped on some toes recently when he implied that a WSOP is not a valid metric in determining who poker's GOAT. This has stirred up a bit of controversy and even reignited a new debate on the value of a WSOP bracelet.
Does Koon have a point or is he merely jealous because he doesn't have a bracelet? Let's explore this topic a bit more in-depth.
Koon Claims WSOP Bracelet is Not a Good Metric to Determine Poker Goat
Jason Koon sparked a lot of controversy lately on Twitter with the following statement:
I have no dog in this fight but using a person's results at the WSOP as a metric for who the poker GOAT is would be the same as using a person's Little League stats to determine the greatest baseball player. The top players can't be bothered to show up for 95% of the events.

— Jason Koon (@JasonKoon) March 6, 2021
This comes on the heels of a debate about Phil Hellmuth's ability to play in high stakes poker tournaments. Some view Phil as one of the greatest due to his 15 WSOP bracelets. Others think that he is merely a great tournament player who is a fish in the high stakes arena.
After much discussion, Koon followed his take up with a bit of explanation behind his thinking:
Guy, this really isn't the hot take some of you are making it out to be. There were 150ish bracelets given away last year with buy-ins from $100. People up in here saying bracelets are like Super Bowl rings… stop it. https://t.co/WefxoOn18H

— Jason Koon (@JasonKoon) March 7, 2021
Koon has much of the same argument that I have had in recent years. The number of WSOP bracelets has gone up steadily in recent years, so much so that now players can win one for a $100 buy-in online. This certainly makes some bracelets less "prestigious" than others. It also increases the list of "no-name" bracelet winners. However, does that mean you cannot use the WSOP as a metric at all?
The Higher – The Fewer
I am reminded of an episode of Star Trek the Next Generation when the phrase "The Higher, The Fewer" was used to stop arguments. However, the phrase is really quite simple. As you move up any metric in life, there will be fewer people that achieve it.
Just look at the number of repeat WSOP bracelet winners. While there are many names who have one two, three, or four bracelets, that number drops off considerably after you reach five.
There are 9 five-time bracelet winners in history. Only eight people have won six bracelets or more. After that, the numbers drop significantly.
Only eight people in the history of poker have won seven or more WSOP bracelets. Here's the shortlist:
15 – Phil Hellmuth
10 – Doyle Brunson, Johnny Chan, Phil Ivey
9 – Johnny Moss
8 – Erik Seidel
7 – Billy Baxter, Men Nguyen
Out of all of those players, the only person to win a WSOP bracelet in the last 5 years is Phil Hellmuth. The gap between Hellmuth and the rest is substantial. But how is this the case if WSOP bracelets are not as valuable?
The simple matter is that it is still quite the feat just to win a bracelet. I look at this the way one does at a world championship in sports. If everything goes right, any team has a chance to win a championship in a given year. However, only the truly great teams can do it over multiple years.
A Single Bracelet Not As Valuable – But Repeat Champions Deserve Respect
I will agree with Koon's concept that winning a random WSOP bracelet is what it used to be. Winning a bracelet pre-2010 is much more of a feat than it will be in 2021. However, that doesn't take away the accomplishments of those that are able to put together multiple bracelet wins.
Any player capable of winning multiple bracelets deserves to be considered a great player. Those that can win 5 or more bracelets definitely have earned the right to be considered in the 'All-Time Greats" category.
Then there's Phil Hellmuth. With 15 bracelet wins, he definitely deserves to be in the GOAT discussion. Is he the GOAT? No. While I love Phil as a player, he is not the GOAT. In terms of WSOP greatness, he definitely is the GOAT. His ability or lack of ability in high stakes circles doesn't take away from that.
bottom corner