top corner
Playing Three Wheel Cards in Omaha Hi-Lo
1980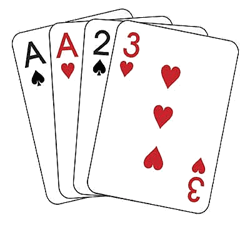 A few years back, Phil Hellmuth shared some strategies that he learned from "Miami" John Cernuto regarding Omaha Hi-Lo. The main takeaway from his conversation was that Cernuto recommended that he stick primarily with hands that have three wheel cards.
Wheel cards are any card from ace through five that complete a low straight. This is a very solid strategy and one most beginners should be following. However, not all three wheel card hands are the same. Today, we will look at the different variations of wheel hands and the best way to play them.
Three Wheel Cards with A-2
It should be obvious to any Omaha 8 or Better player out there that you want hands that include an A-2. These are the best of your wheel starters as they give you the best chance to flop nut low and it gives you a reasonable amount of counterfeit protection.
The best of the best is A-A-2-3 double suited with A-2-3-4 right behind. When you have A-2-3-4, you will have an uncounterfeitable hand when the board flops or turns low.
Many players will recommend raising with these hands pre-flop and most any position. This is a solid play, but if you have too many people coming into the hand, you want to just call along as you may have multiple players with A-2.
Three Wheel Cards Without an Ace
Wheel card hands like 2-3-4, 2-3-5, 2-4-5 or 3-4-5 all require that an ace lands on the board to give you a nut low. When this happens, you will have nut low, but otherwise, you are usually chasing second or third best.
These are hands you want to play without a ton of action ahead of you. However, if the board fails to bring an ace, tread cautiously. Also, of these hands, the 3-4-5 is the weakest as you need both the ace and deuce to hit.
Three Wheel Cards Unsuited
When playing any Omaha game, you want hands with at least one suit available. When you have a rainbow hand, such as As-2h-3d-10c, you are at a disadvantage over many hands.
These hands are somewhat dicey to play as you are often only chasing for low. If the board pairs or produces a potential flush draw, you are generally chopping at best. They are still playable, but only in the right scenarios.
For example, if you are in a loose game that sees many people hit the flop, half of the pot can still produce a nice profit. These are also solid hands play in the blinds. It is not a hand you want to be calling more than a single raise with as you are generally only chasing half the pot.
Three Wheel Cards With a Dangler
Let's talk about danglers in hands. These are cards that do not have a reasonable connection to the rest of your hand. In this case, you are looking at 7, 8, and 9. A nine will almost never work with your hand. The only exception will be when it's suited with your aces.
Seven and eights, while low cards, will only really work when they are either suited with an ace or if you have a five as your wheel cards. Even then, the eight is more of a dangler as it has two gaps for the straight.
When you have a card that is a dangler, you are generally chasing low only. As-2c-3d-9d is great for your low chances, but not great for much else. When you are playing danglers, don't go crazy calling raises with them. Play them sparingly in multi-way pots and in the blinds.
Playing a three wheel card strategy will help control fluctuations when playing Omaha Hi-Lo, but you have to avoid playing every single three wheel hand. By recognizing the right spots to play these hands, you will be on your way to improving your skills in Omaha 8 or Better.
bottom corner