top corner
Robert Campbell Declared 2019 WSOP Player of the Year After Points SNAFU
1773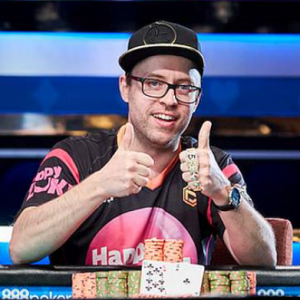 In a somewhat surprising turn of events, Daniel Negreanu is NOT the 2019 WSOP Player of the Year. An error was discovered in the reporting of one WSOP.com ONLINE bracelet events and the error gave Negreanu points he did not earn.
After the error was discovered and corrected, Robert Campbell is now the 2019 WSOP Player of the Year. He is the first Australian POY and is a well-deserving champion.
Points Error Drops Negreanu to Third
We reported on Monday that Daniel Negreanu managed to hold on to win WSOP Player of the Year after Shaun Deeb finished 11th in the final event. This would have made Negreanu a three-time POY champion.
However, Russian poker media member Alex Elenskiy discovered an error in the reporting of Event #68, the $1,000 WSOP.com ONLINE Championship. Some of the results for the event were identical to those from Event #87, the $3k HORSE.
It appears the 32nd through 46th matched identically. It has Negreanu listed as finishing in 36th for the HORSE and also the $1k ONLINE Championship. This gave Negreanu 213.1 points that he did not actually earn.
Elenskiy revealed that after making a correction to the results, Negreanu finished with 3,861.78 points, which is third overall. This means that Robert Campbell is actually the 2019 WSOP Player of the Year.
WSOP Acknowledges Error and Awards POY to Campbell
Later in the day on Friday, WSOP officials confirmed the data error via Twitter and announced that Robert Campbell is the 2019 WSOP Player of the Year.
We've been made aware of an error on the 2019 POY leaderboard. After verifying results and points, Rob Campbell (@SonicJaxx2019) is the 2019 POY.

We'd like to apologize for this error, and offer our sincere congratulations to Rob!

Please read our full statement below. pic.twitter.com/QqZaczMDJz

— WSOP (@WSOP) November 8, 2019
Even before WSOP made it official, Negreanu had conceded that he had lost POY via a pair of tweets.
I will share my thoughts on the WSOP POY situation in a written blog later today.

Genuinely happy for @SonicJaxx2019 because I know what it meant to him and frankly, the entire country of Australia!

Will share more later…

— Daniel Negreanu (@RealKidPoker) November 8, 2019
Congrats mate! Some good news coming your way. Well deserved champ. 👏👏👏 https://t.co/BkcrXECuXo

— Daniel Negreanu (@RealKidPoker) November 8, 2019
The person you have to feel the worst for is Shaun Deeb. Heading into the final day of the Colossus, he thought he needed to finish in fifth or better to win POY. He came into the final day third in chips out of 11 left.
However, if the points would have been correct, Deeb would have only needed to finish ninth. Deeb ended up flaming out in 11th place in a move he called a "choke." Former PokerNews reporter Heath Chick pointed out that Deeb could have folded his way to ninth place and won POY.
What a fuck up but congrats to Rob! Hard to believe that Negreanu wasn't double checking his own points tally. And hard to believe that Deeb is going to take this quietly when he could've folded into 9th in final event when he thought he needed 5th. https://t.co/278Sf9PCAV

— Heath Chick (@_TassieDevil_) November 8, 2019
As it turned out, Deeb finished 43.99 points behind Campbell and finished in second rather than third as originally thought.
At the time of the writing of this report, Deeb has not commented on the situation, but you can be sure he is going to let his opinions be known.
Robert Campbell Becomes First Aussie WSOP Player of the Year
In the end, it was Australian Robert Campbell who won the 2019 WSOP Player of the Year. Campbell had a year that was equal to his previous three WSOPs combined. During the year, Campbell cashed in 13 events, four of them in Rozvadov.
Campbell made six final tables and won his first two WSOP bracelets. His first came in Event #13 when he won the $1,500 Limit 2-7 Lowball Event. Campbell then won the $10,000 Stud 8 or Better Championship for his second bracelet and $385,763.
At the conclusion of the Vegas leg of the WSOP, Campbell held the overall lead for Player of the Year. Heading into the WSOP Europe, Campbell said he didn't feel like he would win POY but was going to try.
In the end, every cash counted, including his 148th place finish in the Colossus. Those final few points were enough to put him over the top.
After learning that he was indeed the 2019 WSOP Player of the Year, Campbell took to Twitter to thank his supporters.
I was trying to reply to everyone individually but I fear I may miss someone. I also felt my replies were becoming generic and repetitive. Instead I've opted for this 'Thank you everyone' Tweet. So yes. Thank you everyone! #wsop #poy #rozvadovbaby #cannedresponses

— Rob Campbell (@SonicJaxx2019) November 8, 2019
The Player of the Year race stirred plenty of controversies and we already expect changes to the format for next year. Now after this latest SNAFU, we will not be surprised to see a complete overhaul on how the POY system runs in 2020.
bottom corner