top corner
Positives and Negatives for 2020 WSOP Online
2343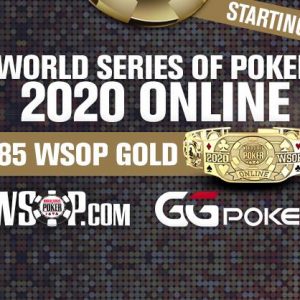 The 2020 World Series of Poker Online kicks off in less than two weeks. With the COVID-19 pandemic still in full swing, WSOP officials are giving poker players a chance to still compete for WSOP bracelets rather than outright canceling the WSOP for the year.
This move has enjoyed a mixed reaction from players and poker fans. As with any major move, there are positives and negatives. Today, we take a look at some positives and negatives for the upcoming World Series of Poker Online.
Positive – You Can Compete for a Bracelet ANYWHERE in the World
If you have always wanted to compete for a WSOP bracelet but do not want to travel to Las Vegas or Rozvadov, now is your chance. For those in the United States, you have to go to New Jersey or Nevada to play, but you at least have a shot at winning a bracelet.
East Coast players will appreciate the fact they don't have to travel across the country to compete for a bracelet. Also, as long as you are physically located in Nevada or New Jersey and can be verified via WiFi, you can play.
During the first five years of the WSOP Online bracelet events, there have been 18 events. In 2020, there will be 85.https://t.co/0yYmzxKKyh

— PocketFives (@PocketFives) June 21, 2020
For everyone else, GGPoker gives ROW players a chance to win a bracelet from their home. You don't have to travel across the globe and incur huge expenses to win a WSOP bracelet. For some, this may be their only viable option to win a bracelet.
Negative – Mixed Game Players are Out of Luck
As a player that prefers mixed games, I do not like that online bracelet events are limited to NL Hold'em and PL Omaha. This makes the online WSOP no different than every other global poker series in 2020. It actually puts them below events like the PokerStars World Championship of Online Poker (WCOOP) as the WCOOP has mixed games.
Mike Leah and Brandon Shack-Harris share their opinions on what an 85-event WSOP Online bracelet schedule may mean to the prestige of winning one.https://t.co/fJX9e1lojW

— PocketFives (@PocketFives) June 20, 2020
Granted, this is better than not having a WSOP but there are many players that are being shut out of a chance to compete in their favorite games. The WSOP has enjoyed a rich history of offering all poker variants, and it is a shame that the tradition has to be put on hold. With any luck, this will be a one-off instance.
Positive – Lower Pricing Points for Recreationals
One massive advantage of playing WSOP online is the pricing points will be a lot lower across the board. Events start at $400 and top out at $3,200 for the High Roller. A lot of events are in the $500 price range.
Most events will be under $1,000 and even the championship is just $1,000. Compare this to the average pricing point of $1,500 for many live WSOP events, and WSOP online is a much lower pricing point than the live WSOP.
Furthermore, you will have opportunities to win your way into WSOP Online events for as little as $1. If you play at Vegas, you're spending at least $125 for most satellites for lower events. Just imagine winning a WSOP after satelliting your way in for just $1. It seems like some old school Chris Moneymaker stuff going on there.
Negative – Winning a Bracelet Becomes Watered Down
Unfortunately, WSOP Online has begun to reignite the argument that the WSOP has become watered down. This is understandable, especially since we will have 85 titles online this year. Last year, we saw over 100 bracelets awarded and this year, we have close to that number being awarded online.
During the first five years of the WSOP Online bracelet events, there have been 18 events. In 2020, there will be 85.https://t.co/0yYmzxKKyh

— PocketFives (@PocketFives) June 21, 2020
This will definitely be the year of "no-name champions" as there will be a lot of people we've never heard of before, and probably will not hear from again after they win a bracelet. Can you tell me more than a handful of winners from last year's WCOOP or SCOOP on PokerStars? That's what the WSOP Online is in danger of becoming – just another online poker event that's popular but not really noteworthy outside of maybe a couple of events.
bottom corner