top corner
Tips for Picking Poker Strategy Books
1951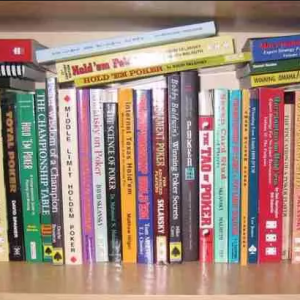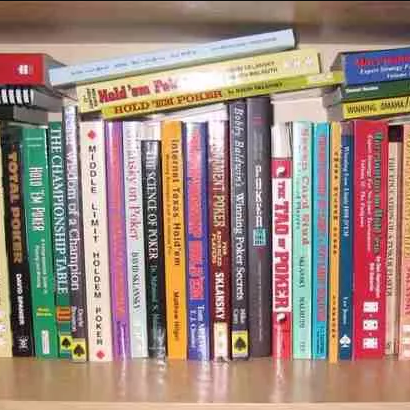 Do a quick search on Amazon, eBay, or any site that sells books and you will find a large selection of poker strategy books to choose from. Some of these books go back decades and some may wonder whether the advice offered in the books is still applicable to today's game.
Today, we are going to give you some advice regarding picking poker strategy books. This will help you select books that will actually help you improve your game in the present era of poker.
Avoid Most Strategy Books Written From 2003 to 2010
We all know that the Poker Boom started in 2003, and when that happened, the amount of poker literature on the market skyrocketed. Everyone that could write competently about poker (or could hire someone to write for them) was cranking out a poker book.
At the time the books were released, the information was helpful and some players were able to improve their game. However, the game has evolved to such as state that many books that were considered advanced poker strategy books would now be no better than intermediate if they are helpful at all.
The game played nowadays is dramatically different than the one played in 2003. Most books back then were written to cash in on the poker boom. Exceptions to that rule include a book like Harrington on Hold'em, but even Harrington's books are a bit dated in some areas.
Avoid Books From Players Not Currently Playing
Pay careful attention to strategy books written by poker players that are not currently active. Successful poker players are able to adapt to the changing environment around them. If a person writing a poker book is not an active player, how can you be sure their strategy is valid. Maybe it was back when they were active, but poker evolves.
For example, any poker strategy material from players like Phil Gordon, Annie Duke, Howard Lederer, and others should largely be ignored. They no longer play and haven't for years. Annie's autobiography is a good read for the stories, but don't rely on it for strategy tips.
Poker Psychology Books Should Still Be Read
One thing that doesn't change that much over the years is the psychology of the game. Books like the Mental Game of Poker or Real Poker Psychology are still applicable books that players can learn a lot from. Even books like Caro's Book of Poker Tells is still something you should check out, especially for those just starting out.
Poker evolves, but the human psyche is complex and a lot of the core concepts in psychology books are the same now as they were 20 years ago. There may be a few things that are outdated in the books, but overall they are still extremely helpful.
Mixed Game Books May Still Be Ok
A lot of what we've discussed to this point center around NL Hold'em. That's because that's the game the majority of poker literature covers. You can apply the same tips for many Omaha poker books as well. However, there are many out there that look for mixed game books. When looking for books on mixed games, you'll find many books that are still applicable.
Our suggestion is that you buy books that focus on the individual games you want to play. For example, Stud players will want to look into books like Seven Card Stud for Advanced Players, Roy West's book on 7 Card Stud, or even High-Low Split Poker.
A lot of books out there on Limit poker games like Stud, Razz, Triple Draw, and even 5-Card Draw are still applicable. Newer books on these games may be a bit more helpful if they cover tournament theory, but for cash game players, many older books are still great reading.
bottom corner