top corner
Mike Sexton on Hospice Care
Mike Sexton On Hospice Care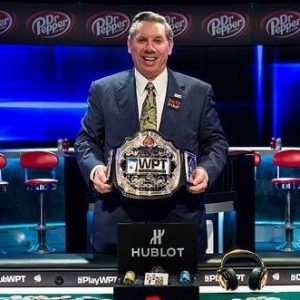 No matter how invincible we feel at times when playing poker, the truth is we are all mortal. That fact hit home poignantly on Tuesday. Poker Hall of Famer Linda Johnson announced that long-time host of the World Poker Tour Mike Sexton is in the end stages of prostate cancer and under home hospice care.
Sexton is a World Poker Tour champion, World Series of Poker bracelet winner, and a Poker Hall of Famer. The announcement was a stunner to the poker world and many have started pouring in their support to one of poker's greatest ambassadors.
Sexton Battling Late State Prostate Cancer
Linda Johnson broke the stunning news on Tuesday in the following tweet:
Mike Sexton is poker's greatest ambassadors. He authorized this tweet. He has only wanted to deliver positive messages so he kept his health problems private. Mike has been battling prostate cancer that has recently spread to other organs. He began in-home hospice a month ago.

— Linda Johnson (@FirstLadyPoker) September 1, 2020
Sexton has always been one of the truly positive influencers in poker ever since his playing days. This transferred over to his career in broadcasting as the host of the World Poker Tour. Sexton was the main host along with Vince Van Patten until 2017 when he left to become the Chairman of partypoker.
His wish to keep things positive led to the shock announcement. Few in the poker world knew about Mike's health and he only revealed his battle after it spread to his organs. It is unknown how long that Sexton has, but generally hospice care is given to those with less than six months to live.
Outpouring of Love and Support Comes Sexton's Way
Once the announcement was made, the poker world came out sharing their thoughts, prayers, and stories about Sexton. Here are a few:
This really sucks. I hate 2020. wishing Mike all the best and hope he kicks cancers ass https://t.co/Y3ZX9dsuJ8

— Chris Moneymaker (@CMONEYMAKER) September 2, 2020
We love you, Mike 💛https://t.co/u91mcIT1Y7 pic.twitter.com/RoPaiOEIJZ

— Kara Scott (@KaraOTR) September 2, 2020
Just heard about Mike Sexton being in hospice. The last time I saw Mike we shared an Uber from a private poker game back to Commerce. He was the exact same guy I went camping with many years ago. Down to earth and fun to be around. We laughed about the old days. God bless him.

— John Cernuto (@MiamiJohnC) September 2, 2020
Fun night in Rio… pic.twitter.com/KJKMfdyASj

— phil_hellmuth (@phil_hellmuth) September 2, 2020
Just hearing tonight that @Mike_partypoker is in Hospice Care in Las Vegas. Mike was a class act that entire trip to Rio. And that night w Rob and Ben was special!! Poker would NOT be as big as it is right now, if not for Mike Sexton… https://t.co/HlFR6s1lTi

— phil_hellmuth (@phil_hellmuth) September 2, 2020
Mike Sexton the best ambassador to poker. So generous with his time for fans. A true legend pic.twitter.com/jYUEM92cML

— Corey Daniels (@cddsoccer) September 2, 2020
So sorry to hear that Mike Sexton @Mike_partypoker is in hospice. A true pioneer whose impact on poker is massive. He has the big heart 💓, in fact the biggest heart you will find!

— Antanas Guoga (@TonyGuoga) September 2, 2020
Joey Ingream posted a video blog on Twitter about Sexton:
This is such terrible news but reading through these replies and hearing the way Mike impacted and treated others has been incredibly inspiring. Mike's been one of my biggest inspirations for how he handled himself as a poker ambassador. Thank you very much Mike. https://t.co/eAe9hwC3dr pic.twitter.com/I6dEAdmsxh

— Joey Ingram #passion (@Joeingram1) September 2, 2020
The messages and outpouring of love and support continued all night and into Wednesday. Linda Johnson tweeted again on Wednesday:
Jan Fisher and I read your tweets to Mike Sexton today and he asked me to thank you all so much for your love and support. He is too tired to personally answer emails, texts, and tweets but he wants you to know he is touched by them. Mike has requested privacy at this rough time.

— Linda Johnson (@FirstLadyPoker) September 2, 2020
Johnson along with Jan Fisher are regularly visiting Sexton and reading him the tweets from others. Unfortunately, based on some of her replies to others, he is right sick and odds are will not be with us for much longer.
Sexton Leaves Amazing Legacy in Poker
Most of the poker world knows Mike Sexton as a broadcaster, but he enjoyed a stellar poker career. He will finish his poker career with over $6.7 million in recorded live tournament earnings. I say recorded because Mike is an old school pro that played long before poker became mainstream.
Sexton has recorded cashes dating back to 1981. His first and only World Series of Poker bracelet came in 1989 when he won a $1,500 Stud 8 or Better Event. He has countless final table appearances and multiple wins as well. He won multiple titles in the defunct Four Queens Poker Classic and Super Stars of Poker.
Sexton's best finish in the WSOP Main Event was in 2000 when he finished 12th. His largest poker cash was in the 2012 $1 Million Big One for One Drop. He finished 9th, and earned $1.1 million.
One of Sexton's crowning achievements at the poker tables came in 2016 when he won the WPT Montreal Main Event. This was his third World Poker Tour final table and this time he finally broke through for his World Poker Tour title. A year later, he'd leave the WPT to chair partypoker.
Sexton was elected into the Poker Hall of Fame in 2009 and became the first of what I call "Player-contributors" to be elected. His influence outside of the poker table may be greater than his achievements at the table. Sexton was a constant ambassador for poker and helped to start the nonprofit organization PokerGives.org. PokerGives offered poker players an easy way to give to charity.
Personally, I was able to play with Mike in a couple of events around 2006 and covered him as a reporter for PokerNews. Mike was the same guy as you'd see on TV and was always a calming influence at the table. One event, I was playing with the late Minneapolis Jim Meehan and Sexton both. Meehan was extra grump and giving dealers grief. Mike spoke up and admonished Meehan for his actions, and the dealers never had another problem.
Now, all we can hope for is a miracle for Mike. They do happen. In the meantime, I encourage anyone that reads this to share encouraging words to Mike and to keep him in your prayers.
bottom corner