top corner
Huck Seed Inducted into Poker Hall of Fame
2758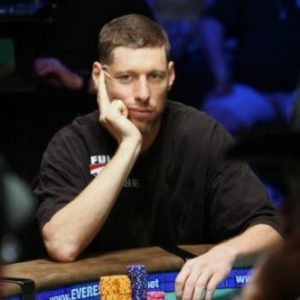 While the 2020 WSOP Main Event finale was delayed due to COVID, it did not delay the Poker Hall of Fame announcement. On Wednesday, the WSOP announced that Huck Seed is the 2020 inductee into the Poker Hall of Fame.
Seed was the top vote-getter from living Hall of Fame members. Matt Savage was second in overall voting. Interestingly enough, the person we thought was a lock to get in was in the bottom half of voting.
Huck Seed Inducted into Poker Hall of Fame
On Wednesday, the WSOP announced that Huck Seed is the 2020 inductee into the Poker Hall of Fame.
1996 World Series of Poker Main Event Champion Huckleberry "Huck" Seed @HuckleberrySeed is the 2020 inductee to the Poker Hall of Fame !
More details : https://t.co/NDygkrqv4I pic.twitter.com/BOjrhzGet8

— WSOP (@WSOP) December 30, 2020
According to the article posted about Seed's induction over on WSOP.com, 30 of the 31 living Poker Hall of Fame members voted. One member chose to abstain from voting this year. It was not revealed which HOF member abstained or why.
Below is the vote tallies:
Huckleberry Seed: 76
Matt Savage: 51
Isai Scheinberg: 45
Eli Elezra: 30
Antonio Esfandiari: 23
Lon McEachern and Norman Chad: 20
Ted Forrest: 20
Mike Matusow: 17
Patrik Antonius: 15
Chris Ferguson: 3
Seed spoke of his nomination in the WSOP article, stating, "Hearing the news that I am being inducted into the poker hall of fame this year brought back memories of my early poker days, walking into the Binions Horseshoe, about to start a poker session, admiring all the poker hall of famers on the wall. It feels good to be included with all the poker legends that I once idolized and competed against over the years. Thank you everyone."
Seed is best known for winning the 1996 WSOP Main Event and for being an avid prop bettor. Seed also won the 2009 NBC National Heads-Up Championship and the 2010 WSOP Tournament of Champions. He has $7.64 million in live tournament earnings and millions in winning in global cash games.
Poker Community Comes Out in Support of Seed's Induction
Not surprisingly, many in the poker community came out to congratulate Seed on his induction. Here are a few tweets from some of those congratulating him:
Congrats to @HuckleberrySeed , well deserved! https://t.co/YOcfLoNx4G

— Erik Seidel (@Erik_Seidel) December 30, 2020
Huck Seed is such an amazingly worthy new member of the Poker Hall of Fame. His accomplishments are more than "Hall-worthy" and the stories of him off the felt would have lasted forever even if he were not voted in. I am very happy for him.

— Lon McEachern (@lonmceachern) December 31, 2020
Congrats Huck Seed!! Well deserved my friend!!

Huck Seed Inducted into Poker Hall of Fame | PokerNews https://t.co/OJUAbrlkf6

— phil_hellmuth (@phil_hellmuth) December 31, 2020
Linda Johnson also congratulated him, but also pointed out that we really should have had a second person inducted this year:
Congratulations to Huck Seed. I sure wish they had inducted two people this year. Matt Savage also deserves to be in. https://t.co/HxTw9rLJqE

— Linda Johnson (@FirstLadyPoker) December 30, 2020
Overall Vote a Bit Surprising
Seed's induction isn't a shock as he was one of two people I felt was most likely to be inducted. However, going into the voting, I honestly felt that Ted Forrest would be the frontrunner. Surprisingly, he did not rank in the top three. He was on par with Lon McEachern and Norman Chad.
Matt Savage finishing second in the voting is also quite surprising. Out of this list, I would have expected him to finish fourth or fifth. If this had been any other year, Savage would have been in as the second-highest vote receiver.
Chris Ferguson receiving three votes was also surprising. I'm not of the mindset of most that think he doesn't deserve the three he received. Instead, I assumed he would get more votes from those that know him over the years. Obviously, the living HOF members seem to side with the general public. As such, I doubt we will ever see Ferguson on the list of finalists in the future.
The rest of the vote went about as I'd expect. Mike Matusow just doesn't have the consistency necessary to get into the HOF. Antonius is a first-timer on the list, and Esfandiari will need a bit of help to get over the hump and into the Hall of Fame.
We can now look forward to 2021 and hope the WSOP will revamp the HOF voting process. Next week, I will give some thoughts on what I feel should be the future of the Poker Hall of Fame.
bottom corner