top corner
Howard "Tahoe" Andrew Passes Away at 86
2803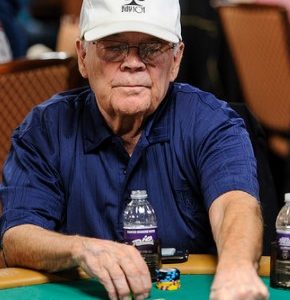 If you have spent any time in major tournament poker, you've probably heard of or played with Howard "Tahoe" Andrew. Long known as one of the elder statesmen of poker, the two-time WSOP bracelet winner was a favorite among those that knew him.
Unfortunately, Tahoe passed away earlier this week at the age of 86. He leaves a long legacy in the game, including a record in the WSOP Main Event that may never be broken.
Howard "Tahoe" Andrew Passes Away
If you're new to poker or don't play many live events, you probably never heard of Howard "Tahoe" Andrew. Tahoe has been a staple of live poker, particularly on the West Coast, for decades. Unfortunately, we will no longer see Tahoe on the circuit as he passed away this week. He was 86.
Tahoe got his nickname because that's where he honed his skills. He played in Lake Tahoe and has been playing poker at a pro-level since the 1970s. He first started playing at the World Series of Poker in 1974 and continued to do so until 2018.
Tahoe won two WSOP gold bracelets in back-to-back days in 1976. He won Event #1, a $1,000 NL Hold'em, and Event #2, a $2,500 Businessman's Event. Tahoe played and defeated Dewey Tomko heads-up for the title.
Taho wasn't a pro poker player. He was an industrial engineer that played poker as an amateur. Despite his amateur status, he still amassed over $1.5 million in live poker earnings. His best scores came in 1987 when he finished second in the Grand Prix of Poker Main Event for $250,000 and won $86,400 in a $200 NL Hold'em Event in Amarillo Slim's Super Bowl of Poker. The Super Bowl of Poker was second only to the World Series of Poker back then, so winning an event would be on par with winning a WPT event.
Tahoe continued playing well all the way up until his passing. He is probably best known for his insane streak of playing in the WSOP Main Event. Tahoe played in every Main Event from 1974 until 2018. That 45-year streak is one that will likely never be topped.
Poker World Pays Tribute
After Tahoe's passing was announced, there were many in the poker world that paid their respects. Here are a few of those postings:
Always handled himself perfectly, and was always a nice guy. Howard has been a fixture in poker tourneys, and one of the few that played w me in 1986 that was still in action, until we lost him Weds. RIP "Tahoe"https://t.co/yHdFd4AWPX

— phil_hellmuth (@phil_hellmuth) January 15, 2021
Howard "Tahoe" Andrew, who had been in poker for over six decades, passed away this week.

He was a class act. Always enjoyed chatting with him. A true legend of the game. I wish he'd written a book or five (he had the stories to do it).https://t.co/ylodhwvEy5 pic.twitter.com/19HWbPmNPS

— Chad Holloway (@ChadAHolloway) January 14, 2021
Ladies, Gentlemen and poker players alike … raise your glass in a toast to the memory of one of the game's great gentlemen

Howard Andrew … Tahoe … you are already missed, my friend pic.twitter.com/8UTzM4EFd8

— Dan Ross (@HoldemMedia_Dan) January 14, 2021
We lost a true poker legend, Howard "Tahoe" Andrew.

Rest In Peace my friend. pic.twitter.com/NtguBUhCUI

— Matt Savage (@SavagePoker) January 13, 2021
RIP Howard "Tahoe" Andrew. You were an asset to the poker industry. I enjoyed competing against you over the years. I enjoyed traveling the world with you on many cruises. I am proud to call you my friend and I will miss you.

— Linda Johnson (@FirstLadyPoker) January 13, 2021
Many others spoke of Tahoe on Twitter, Facebook, and other social media sites. The general consensus was that Tahoe was a wonderful guy to play with and always had wonderful stories to share.
Tahoe is the latest poker figure to pass. In the last few months, we saw the passing of WPT Anchor and Poker Hall of Famer Mike Sexton, along with the 2009 WSOP Main Event runner-up Darvin Moon.
Truly a Joy to Play With at the Tables
While it has been quite a while since I played poker out west, I do remember Tahoe fondly. He frequented many events during the World Series of Poker and could be found in some of the smaller events around Las Vegas.
It was those smaller events that I was able to play with Tahoe. Unless someone told you, you'd never assume that he was a two-time WSOP bracelet winner. He wasn't the best player at the table, but he could go on a run and take your chips if you weren't careful.
Tahoe also liked to interact with people and tell stories. I don't have any great stories to tell about Tahoe other than to say that he was always there and was always competitive. He wasn't a player that showed up and busted out quickly in events. Tahoe played his best regardless. Sometimes he did well. Sometimes he didn't. However, he was always competitive.
Tahoe will be missed by the poker world. We continue to lose a lot of our history as old school players age. Tahoe is a treasure that will never be replaced.
bottom corner