top corner
Aria High Rollers Make Triumphant Return
2842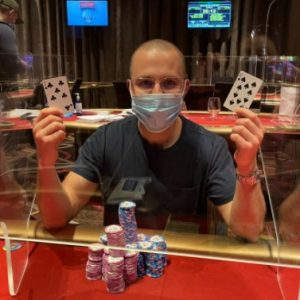 Live poker tournaments have been slowly returning to casinos around the United States, but few high roller events have been played. That all changed recently when the ARIA in Las Vegas held three $10k High Roller tournaments.
These were the first three Aria High Rollers to be played since the beginning of the pandemic. When the smoke cleared, Dan Smith, Cary Katz, and Christopher Brewer walked away winners.
Dan Smith Wins First $10k High Roller
The first Aria High Roller event since April 18, 2020, kicked off this past Thursday. A field of 34 entries was created for a prize pool of $340,000. The final five players received a payday and the final five were many of the usual suspects.
Jacob Daniels squeaked into the money with a min-cash in fifth place, securing a prize of $27,200. Sean Winter was then eliminated in fourth for $34,000. Ali Imsirovic scored his first Aria High Roller cash since June 2019, earning $54,400 for third.
Heads-up was between Alex Foxen and Dan Smith. Smith managed to pull out the victory this time around. Foxen finished runner-up for $88,400. Smith received $136,000 for his first outright win in a live poker tournament since 2018.
Cary Katz Wins After Chop With Sean Winter
The second Aria NL Hold'em High Roller took place on Friday. This time around, the field was just 22 players, creating a $220,000 top prize. Brock Wilson was the first player in the money, earning $22,000 for fourth place. Jacob Daniels cashed for the second straight day, earning $35,200 for third place.
Results from yesterday's $10K NLH High Roller @ARIAPoker

Congrats to @Nolez7 and Birthday Boy 🎂 Cary Katz for their heads-up deal

Same event today at 2pm: $10K – 100K/40min, reg open til 7:30p pic.twitter.com/r8KDD2UW7q

— Paul Campbell (@TDPaulCampbell) January 30, 2021
Sean Winter also cashed for the second-straight day, this time making it heads-up with Poker Central founder Cary Katz. The pair decided to chop the prize money and end the event. Winter received $80,000 for second while Katz took the victory and $82,800.
Christopher Brewer Wins Final High Roller of Short Series
Christopher Brewer is a name many have not heard about until 2020. He cashed eight times during the 2020 World Series of Poker Online, including a 5th place finish in the Heads-Up Championship. In December, he cashed three times during the Wynn High Roller Series, winning one and finishing runner-up in another. Now he can add an Aria High Roller title to his growing resume.
The final of three high rollers drew just 21 players for a prize pool of $210,000. Just three players were paid in this one. Brock Wilson min-cashed for the second straight day, earning $33,000. Ali Imsirovic and Christopher Brewer then battled for the top prize.
Congrats to Christopher Brewer for his victory in yesterday's $10K NLH High Roller @ARIAPoker 😎

Was a fun weekend running them, hope to all the High Rollers again soon! 😃 pic.twitter.com/O3edAYwpEe

— Paul Campbell (@TDPaulCampbell) January 31, 2021
Imsirovic could only muster a runner-up finish in this one, giving him $63,000 for his second cash of the series. Brewer earned $113,400 for his first victory of 2021. This is technically Brewer's second straight victory as he won a Wynn High Roller on December 18th.
Brewer is coming off of a career year in 2020, earning $271,093. Prior to that, his best year was a $40k year in 2016. He already has $113k in earnings this year and is showing promise of being a rising star in the high stakes community.
High Rollers a Good Sign for Vegas
The good news is that we are beginning to see some live poker tournaments return to Las Vegas. However, we don't yet know when the next Aria High Roller Series will run. There are no future events scheduled, but Tournament Director Paul Campell said that he hopes to bring the events back sometime in the near future.
While the return of high rollers is a great sign for Las Vegas, there are many that are wondering if there will be a live 2021 World Series of Poker. While the pandemic is finally beginning to turn the corner and vaccinations beginning to ramp up, it will still be months before it may be safe enough to hold large group gatherings. As such, there is a good chance that we will see a return of the World Series of Poker Online for 2021.
bottom corner