top corner
5 Reasons I Won't Play Live Poker Until 2021
2209
Live casinos are starting to reopen, and some are going to offer live poker. The Seminole Hard Rock in Tampa, FL will reopen this week using plexiglass dividers and operating at 50 percent capacity.
A couple of weeks ago, we spoke about what live poker will look like as casinos reopen, but today I want to give you my view of this from a player's perspective.
For years, I played semi-professionally around the country. I've played from small five table poker rooms to the World Series of Poker. I feel qualified to speak on this. Today, I will tell you my reasons why I won't be playing live poker for the rest of 2020.
I Don't Like Being Boxed In
I've seen some of the setups that online casinos are using for live poker and it reminds me a lot of when I visit areas like Los Angeles or Compton, CA. The post office, convenience stores, and select other stores that interact with the public tend to enclose their workers in plexiglass. This effectively boxes people in.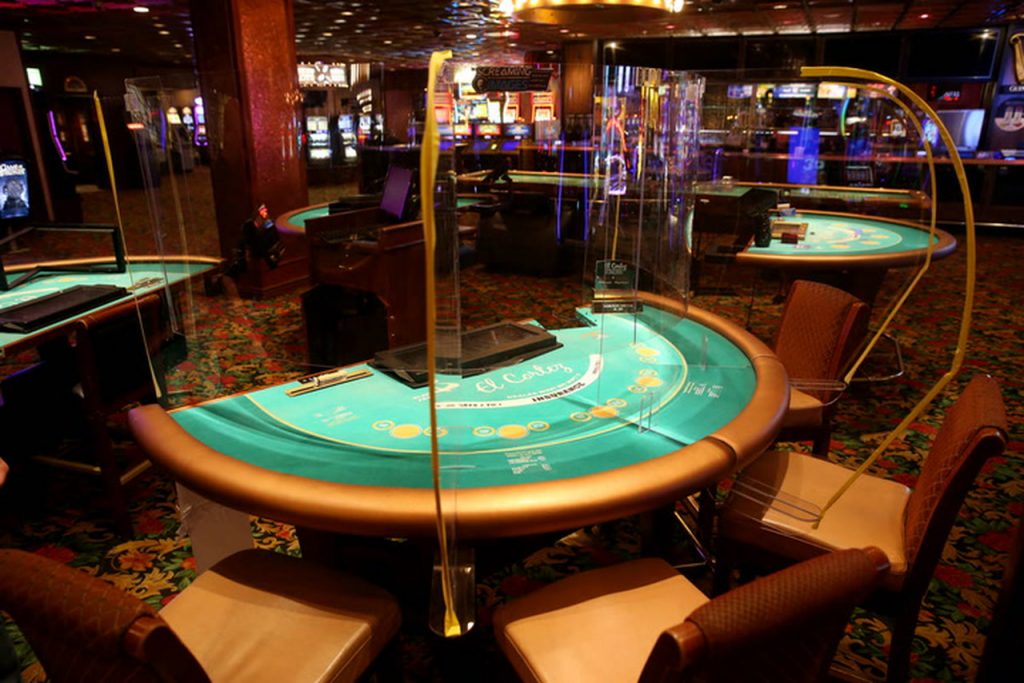 Many live poker setups look like they are trying to box in their players. It looks awkward and downright uncomfortable. I don't want to play awkward poker.
Plexiglass Doesn't Disinfect Cards or Chips
The plexiglass setups may be fine for stopping someone sneezing or coughing directly into a player's face. However, it does nothing to prevent the transfer of germs from cards or poker chips. As someone that has played a lot of live poker, I can tell you that poker chips are going to be the vehicle used to transmit the virus.
Cards can be swapped out every dealer but you can't make players swap out stacks. Chips on the table can sit and collect germs all day and will get passed around to every player that sits at the table.
Think of it like glitter. If you sprinkled glitter all over a poker chip and left, how long would it be before there's some glitter in every seat?
Half of My Profit is Gone
When I see the words "50 percent capacity," I see 50 percent of my potential profit is gone before I even step through the doors. Live poker is already lean enough in some areas without putting restrictions on the number of players.
Furthermore, games will be running four to six-handed. The amount of money in play at every table is automatically reduced. How many of you are willing to go to work for 50 percent of your salary. In poker, your winnings are your salary.
I'm Here for the Tournament – That's Canceled
The common thread across all reopened poker rooms is that they are spreading cash games only. While I play both cash games and tournaments, I generally plan to play both when I make a trip to the casino. Most of my trips are centered around either major poker tournaments or around playing in select random daily events.
Also, when poker tournaments are not running, cash game action dries up at many casinos. Tournaments often feed cash games but seldom do cash games feed tournaments. There are some people who only go to tournaments to play cash games. I've been one of those people. If tournaments aren't going on, odds are I won't be there.
The Tourists Won't Be There
Cash games where all the players are regulars are the worst type of game. Unfortunately, that is what you will see at many live poker rooms. The reason is that many tourists are staying home, whether it be for fear of the ongoing pandemic or the fact they need to hold onto their money.
People don't have the disposable income as they did even six months ago because many have lost their job. They need what money they have to survive. As such, your games will be full of regulars and the games will be much tougher. If the fish aren't there, I don't want to play.
bottom corner