top corner
Bovada Poker Review
The Bovada company (www.Bovada.lv) has been involved in online sports betting for more than 15 years and has since expanded into both online gambling and online poker. At one point, Bovada also had an entertainment division in which it promoted mixed martial arts fights and its own record label. Bovada is a diversified company but our main focus today is the online poker aspect (also read our Bovada Casino review).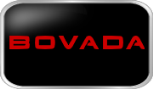 Location: Antigua
Established: 1994
Promo Code:

n/a

Traffic: 12,129 Players
Mac Friendly: Yes
Visit Bovada

Bonus: 100% up to $1,000
Bovada Poker is one of our top rated poker rooms. Bovada has been in business for over fifteen years, and in that time has built an iron-clad reputation for providing fair online wagering to all players, regardless of nationality.
Plus, Bovada is currently running a special promotion for all BestPokerSites.org visitors - sign up through any of the Bovada.lv links on this page, and automatically receive a 110% up to $1,100 bonus on your first deposit.
Use the sign up links on
BESTPOKERSITES.ORG
for a 100% up to $1,000 Bonus!
Start Playing Now at:
Bovada Poker
The Bovada poker room isn't the biggest in the world but it has grown steadily over the years. Texas Hold'em players can find plenty of competition at a wide variety of stakes. One of the poker room's greatest strengths is its reputation for soft games. Apparently, casual players wander in to the poker room after initially getting started at the casino or sportsbook. These players are invariably inexperienced and contribute to a laid back poker atmosphere.
Bovada Poker Deposit Bonus
All new players to the Bovada poker room are eligible to receive a hefty bonus on their first deposit. This bonus is issued as a 110% match rate on your first deposit for up to $1100 extra. The first 10% of the bonus is offered as an instant cash bonus and the remaining 100% is earned out by accumulating frequent player points.
For every 10 points you earn, $1.00 of your bonus money is considered "cleared." Every time you clear $10 worth of the bonus, that money is released to your player account. You'll have a total of 60 days to clear as much of your bonus as possible. After you release your bonus money, you are free to wager or withdraw it as you please. Read on to learn how to earn frequent player points:
Bovada Frequent Player Points
Players earn frequent player points by playing real money cash games, sit and go's, and multi table tournaments. At the cash games, players earn points based on how much rake they contribute to each pot. Here is how it breaks down for real money cash game pots:
$1.00 to $3.00 of contributed rake = 1 Bovada point.
$0.50 to $0.95 of contributed rake = 0.5 Bovada points.
$0.25 to $0.45 of contributed rake = 0.25 Bovada points.
$0.05 to $0.20 of contributed rake = 0.1 Bovada points.
For sit and go's and multi table tournaments, players earn three player points for every $1 paid in tournament fees. So, if you enter a $50+$5 tournament, you will earn fifteen player points ($5 tournament fee x three points per dollar). Player points can also be used to redeem player rewards - we discuss this later. For a full discussion of the Bovada Poker bonus as well as an expanded discussion on Bovada Points, read our Bovada Poker bonus guide.
Bovada Poker Software
The Bovada poker software is a little different than the industry norm. Instead of going for the real-life-poker-table look, the Bovada tables are designed to be as simple as possible. The tables have a minimalist design that makes it easy to see who the action is on and how much the last bet was. Here is a screenshot of the software: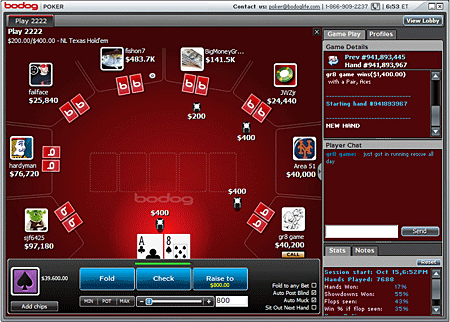 Without a bunch of complex graphics bogging it down, the software runs fast and smooth. The simplicity and tight controls have actually made the Bovada poker software one of the best packages on the market. As far as features go, the Bovada software is about on par with the rest of the industry. Players can take notes on each other, the tables can be sorted, and four color decks are always available.
Bovada Poker Tournaments
Bovada is still a growing poker site, but its tournament selection gets better every year. Their biggest regular tournament is the weekly Sunday $100,000 Guaranteed. It's not the biggest regular tournament on the Internet but it just might be the greatest value. The buyin is only $100 and Bovada regularly has to add $30,000+ to meet the guarantee. With only 400ish players competing for a $100,000 prize pool, it's a hard value to pass up.
In addition to that, dozens of other tournaments run every day with buy-ins that range from $0.10 all the way up to $200. The tournament types include normal tournaments, satellites to live events, and a variety of guaranteed prize pool tournaments. The selection is focused mostly on Texas Holdem but there are a few other game offerings. If you're looking specifically for non-Holdem games, though, you will probably have better luck at PokerStars or Full Tilt Poker.
Player Traffic
Player traffic is still a little hit and miss at Bovada Poker. The Texas Hold'em games are always up and running but the other game types can get pretty dead during the day. The prime time to play is during American evening hours. You'll find quite a few people logged on during those hours.
There is a positive side to the low traffic, though. Hardcore grinders don't play at Bovada because they like to have hundreds of table to choose from. If you play casually, you'll be up against other casual players. In fact, the games at Bovada are notoriously soft because they tend to attract players from the Bovada sportsbook/casino.
Bovada Poker Banking Options
New players can deposit at Bovada Poker via a variety of deposit options:
Bovada Poker Deposit Options
Withdrawal options are basically the same as the deposit options:
Bovada Poker Withdrawal Options
Getting your money on and off Bovada Poker is as easy as logging in and visiting the Cashier. Bovada has never had any problems issuing withdrawals or processing payments - in fact, Bovada has some of the smoothest payment processing in the online gambling world.
Support
Customer support at Bovada is well above the industry average. The biggest thing going for Bovada is the fact that they are one of the few US-friendly poker sites with a 24 hour customer support phone number. Most online poker sites restrict their players to e-mail support only.
In all likelihood, you'll never have to contact Bovada's support team. Their software works well and everything is processed smoothly. However, if you ever have a problem, their support reps are fast and responsive. You won't have to sit around all day waiting for solid answers.
Now that you know everything there is to know about Bovada.lv's poker room, it's time to get started. Visit Bovada Poker through any of the links on this page to automatically receive our exclusive 110% up to $1,100 sign up bonus.
bottom corner