top corner
WSOP Releases Schedule of 20 High Buy-in Events
1040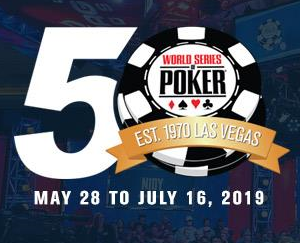 The World Series of Poker is taking a slow drip approach to releasing the schedule for the 2019 WSOP. On Tuesday, WSOP officials put out the schedule of all events $10,000 and up. The 50th Annual World Series of Poker will feature 20 events with a buy-in of $10,000 or more, including the first-ever Short Deck NL Hold'em bracelet event.
20 Events of $10k or Higher
With this being the 50th anniversary of the WSOP, officials promised big things for the series and they delivered with a large selection of high buy-in events. This year, there will be 20 events featuring a buy-in of $10k or larger.
Just about every form of poker imaginable is being represented this year with $10k events being offered in Limit Hold'em, Seven Card Stud, Stud 8 or Better, Omaha Hi-Lo, Razz, NL 2-7 Lowball, Triple Draw Lowball, and even mixed events such as H.O.R.S.E. and Dealer's Choice.
One big addition to the $10k lineup is the first-ever $10k Short Deck No-Limit Hold'em event. The event will run on June 2nd and will feature one re-entry. Short Deck Hold'em has exploded in popularity in the last year and many predicted that the event would get its first tournament at this year's WSOP.
Four Event With Buy-in of $25k or Higher
Back in the day, a $10k event was considered a "High Roller" event, but now the poker world has embraced events with massive buy-ins of $25k and up. As such, the WSOP has begun incorporating massive buy-ins into their events.
This year, there will be four events with a buy-in of $25k or higher. The first is the 50th Annual High Roller event with a $50,000 buy-in. This gimmick event has a single re-entry and a starting stack of 300,000 chips.
On June 19th, the $25,000 PL Omaha High Roller returns with a single re-entry and a 150,000 chip starting stack. The annual $50,000 Poker Player's Championship returns on June 24 and will play as a freezeout event.
The biggest buy-in of the summer will take place on June 11 with the High Roller NL Hold'em Event featuring a $100,000 buy-in. The tournament features a single re-entry and starting stacks of 600,000.
One notable absence from the schedule is the One Drop High Roller. The event typically ran in the years where the Big One for One Drop was not held. It did not appear in this schedule. We don't know whether the event was outright dropped, the buy-in reduced, or will simply be added when the finalized schedule is released.
Final Schedule Coming in "First Quarter" of 2019
While this slow drip method of releasing the WSOP schedule is good for hype, it is a bit annoying for the average poker player who simply wants the complete schedule so that they can make plans for the summer. According to WSOP.com, the full schedule will come out sometime in the first quarter of 2019. Based on past history, we will probably see it sometime in February.
Of the schedule, WSOP Vice President Jack Effel stated, "We are proud to be the only tournament series offering such a wide variety of poker variants. Players at this buy-in level should continue to expect terrific structures, with registration open until Day 2 in most cases and plenty of play to determine the champion in each discipline."
If you have plans of going to the 2019 WSOP, start making your reservations ASAP. There are plenty of options with Caesars-run properties with reasonable room rates. You can also check with off-strip properties such as the Orleans or the Four Queens in Downtown Las Vegas. We will keep you updated once the full schedule of events is released for the 2019 World Series of Poker.
bottom corner