top corner
WSOP Main Event Final Table Begins – Dyer Laps Field and Cada Advances
615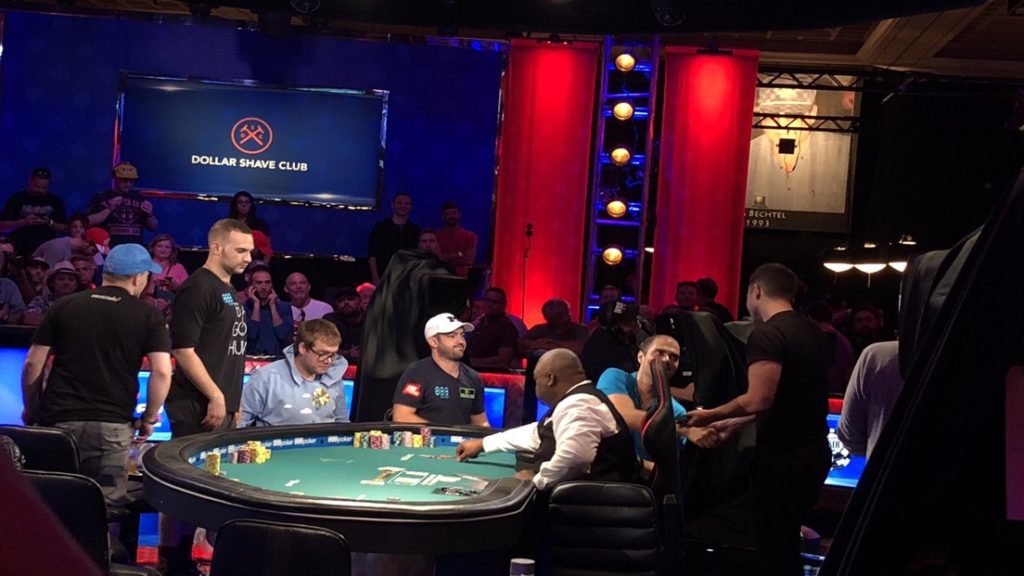 Nine poker millionaires made their way to the Rio on Thursday to begin their journey to the WSOP Main Event bracelet. Nicolas Manion and Michael Dyer held a massive lead over the rest of the final table and are the favorites to win it all.
The biggest story at this final table is Joe Cada, the 2009 Main Event champion. He made the final table and is in position to be the first two-time Main Event champion in the modern era of poker. John Cynn is also on a remarkable run, having finished 11th in the Main back in 2016. Now he has a shot to win it all.
This year's Main Event final will play over three days. Day 1 of the final table saw three players eliminated and a new chip leader established.
Short Stack Labat First to Go in Brutal Fashion
Antoine Labat started the final table as the short stack and became short after running his pocket kings into pocket aces of Nicolas Manion on Wednesday. If you missed the hand, both he and Yeuqi Zhu were all-in with pocket kings. Labat had Manion covered and was left with just 8 million after the hand.
With only about 12 big blinds left to start, Labat needed help to make a run, and it appeared he might get it when he woke up with pocket kings yet again. This time, he was called by Artem Metaladi who found pocket queens.
Labat seemed destined for a double, but then the flop fell As-Qd-5s to give Metaladi a set of queens. The turn and river both blanked Labat was out. Pocket kings were the bane of his existence at the end of his Main Event run. He earned $1 million for ninth, but things could have been different if he had one just one of those two hands with pocket kings.
The dreaded kings.

We made it to a final table of nine when Labat and Yueqi Zhu lost with pocket kings.

And now the first bustout on Day 8 was with… pocket kings

Antoine Labat out in 9th place ($1,000,000) https://t.co/ePby7xc2qv pic.twitter.com/BGt2ZYmTBT

— PokerNews Live (@PokerNews_Live) July 13, 2018
Metalidi Busts in Brutal Fashion
While Artem Metalidi managed to knock out Labat, he wasn't able to capitalize on those added chips, ultimately finishing in eighth place. Like Labat, he seemed in good shape to double, but got unlucky.
Metalidi was all-in with pocket fives and Aram Zobian also shoved with Kd-Qd. Metalidi caught a set on the flop of 6d-5h-2d but had to sweat flush outs from Zobian. The turn fell the Kc, but the river 4d filled Zobian's flush and eliminated Metalidi in brutal fashion. Metalidi still earned $1.25 million for his eighth-place finish.
Main Event: Artem Metalidi eliminated in 8th place ($1,250,000)

Aram Zobian collects some chips and scores a knockout https://t.co/oaPr7UdoZ3 pic.twitter.com/dlDCjuCxod

— PokerNews (@PokerNews) July 13, 2018
Alex Lynskey Couldn't Win a Pot and Busts in Seventh
Heading into the final table, Alex Lynskey was fifth in chips and seemed likely to make Day 2 unless things went south. Boy did they ever go south. Lynskey was unable to win a single pot during his run at the final table and ended up being the third person eliminated.
Lynskey was all-in with pocket sixes and John Cynn called with Ks-Qs. A flop of 10c-9c-3c gave Cynn a straight draw. The turn 10d also gave him outs if a nine hit the river. The river was the Jc and Cynn eliminated Lynskey with a straight. Alex Lynskey took home $1.5 million for his awesome run.
8th and 7th were eliminated in a flash, but what should be made of these @WSOP Main Event millionaires?
Artem Metalidi: https://t.co/B1az0pA0nj
Alex Lynskey: https://t.co/uW14gioz7R
Play resumes on @ESPN and @PokerGO Friday at 9 PM ET.

— Poker Central (@PokerCentral) July 13, 2018
Michael Dyer Grows Monster Chip Lead – Cada in Fifth
At the start of the final table, Michael Dyer was second in chips but anyone watching Day 7 coverage knows that he was dominant until the final hand of the night. Nicolas Manion may have taken the chip lead, but he certainly didn't play like a chip leader.
Instead, it was Manion that played masterfully and quickly retook the chip lead. He then amassed another monster lead like on Wednesday and finished the day with a 2:1 lead over the rest of the field. He will come back on Friday with 156 million in chips versus just 72 million for Manion.
Michael Dyer dominated Day 8 of the Main Event, taking a massive chip lead into Day 9 with six players remaining and @cada99 still in the hunt for his second Main Event title. https://t.co/bMEQa4q4m6 pic.twitter.com/eug9dsYZbQ

— WSOP (@WSOP) July 13, 2018
John Cynn's Main Event run continues and he managed to chip up to 61.55 million by the end of Day 1 of the final table. He comes back third in chips. Tony Miles slipped from third to fourth in chips and will take 57.5 million into play on Friday.
Joe Cada finished the day up only 5 million from his starting stack. He will take 29.27 million into play on Friday, but still has plenty of chips relative to the blinds. Aram Zobian returns as the short stack with just 16.7 million.
Day 2 of the final table will start with 500k/1M blinds with 150k antes. Zobian is the only player who will start in the danger zone but not so short he can't maneuver his way back into contention.
Friday's action will resume at 5:30 pm Vegas time on Friday and play down to the final three players.
bottom corner