top corner
WSOP Europe Adds Short Deck Event – Two Online Bracelet Events Available to NJ
1261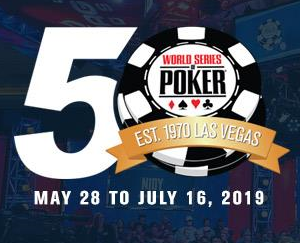 World Series of Poker officials released a couple of significant pieces of news this week. The first was that yet another bracelet event will be up for grabs. A €25,500 Short Deck NL Hold'em event has been added to the schedule, bringing the total number of bracelets offered in 2019 to 101.
Also, there has been some concern that players in New Jersey would be unable to play in online WSOP bracelet events this summer. WSOP officials have confirmed that players will be able to play in the first two bracelet events of the summer, but anything beyond that is still to be determined.
WSOP Europe Adds Short Deck Hold'em Event
The first major WSOP announcement came over the weekend as WSOP officials revealed that an eleventh event has been added to the 2019 World Series of Poker Europe. The fifth event is now a €25,500 Short Deck High Roller Event with a €2.5 million prize pool. It will run from October 18-19.
Short Deck Hold'em is a popular variant of NL Hold'em where the deuces through fives are stripped from the deck. This makes hands such as straights much more common and a flush is higher than a full house in hand rankings.
King's Resort Owner Leon Tsoukernik commented about the addition to the schedule, telling PokerNews, "It's the biggest bracelet event in this format in the history of Europe, and we are honored to host it at King's. It will be an event for fans of modern fast poker with huge guarantees. Our resort confirms its role as a key poker destination in 2019."
The addition of the first-ever Short Deck event in WSOP Europe history brings the total events at the WSOP Europe to 11 and increases the guaranteed prize pool to €15.97 million. This also increases the total number of bracelets offered for 2019 to 101. That's 100 bracelet events between WSOP Las Vegas and WSOP Europe and one for the WSOP Circuit Global Championship in August.
First Two Online Bracelet Events Available to New Jersey
One of the biggest concerns heading into the 2019 WSOP is whether New Jersey online poker players will be able to compete for WSOP online bracelets. They were able to do so last summer, but the Wire Act opinion reversal by the DOJ had put that in jeopardy.
Originally, it seemed that the entire schedule would be locked out to players but the DOJ extended the deadline for compliance to the new opinion to June 14. As such, WSOP officials have determined that New Jersey online poker players will be able to play in the first two WSOP online bracelet events.
The first WSOP online bracelet event is on June 2 and is a $400 NL Hold'em Event. The next is on June 9 and is a $600 PLO Event. WSOP online bracelet events are scheduled for every Sunday of the series.
For now, the first two bracelet events are the only ones that players should plan on playing. Legal challenges to the new Wire Act opinion have been filed and are progressing, but it seems unlikely that a resolution to the matter will happen before it impacts the remainder of the WSOP schedule.
This does not impact players in Nevada, and anyone physically located in Nevada will be able to play at WSOP.com NV. WSOP online bracelet events have been popular since first launched and this year there will be nine bracelet events available to players.
For those in New Jersey that want to compete in events past June 9, you may want to look into making a road trip to Nevada for the Summer. Otherwise, you will probably have to wait until at least next year to continue competing for WSOP bracelets online.
bottom corner