top corner
Virginia Passes Casino Bill – Kentucky Shelves Online Gambling Bill
1145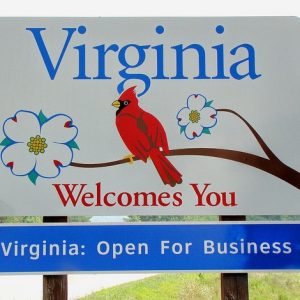 There have been a couple of significant developments surrounding online gambling legislation in Kentucky and Virginia. For Kentucky, a bill that to regulate online poker, sports betting, and daily fantasy sport was expected to have an easy path to passage. That's no longer the case as the bill has been shelved for 2019.
Meanwhile, it appears that Virginia has defied the odds and a bill to expand gambling in the state only needs Governor Ralph Northam's signature to pass. If passed, the bill will allow casino gambling, online gambling, and sports betting in the Commonwealth.
Kentucky Online Poker Dead for 2019
Last month, bill H 175 was submitted to potentially regulate online poker, sports betting, and daily fantasy sports in the state. The bill was being touted by many to have an easy path to passage. I was one of those that felt that passage was a longshot considering the state's history with online gambling and it appears I was correct.
According to an article on Insider Louisville, the bill is all but dead. Rep. Adam Keonig told Insider Louisville that despite the bill passing unanimously out of committee, it appears to lack the support needed for passage.
He told the paper, "Nothing is really dead until midnight on the last day of session, but needing a supermajority of votes was too high a bar to get in a short time period." The lack of support for the bill comes even after a report from the Keeneland horse racing track that stated that the state could expect about $20 million in annual tax revenue.
Under the bill, horse racing tracks could pay a $500,000 licensing fee to offer online poker, sports betting, and DFS. On-track wagering would be taxed at 10.25 percent while online betting would be taxed at 14.25 percent.
Koenig believes that next year the bill will have better odds, stating, "We will regroup and reload with a better plan to win the hearts and minds of the public next year. We will only need a simple majority, and it will be a budget year where that $20-48 million will look a lot more important."
Virginia Becomes Fifth State to Regulate Online Poker
I will admit that I never expected casino gambling to be legal in my lifetime in Virginia. As a lifelong resident, the legislature never seemed to have the support to do so. That all changed this year as SB 1126 has now made its way through the legislature and Gov. Northam signed the bill into law on Friday.
Under the bill, the Virginia Lottery Board will oversee gaming and cities with a population greater than 200,000 would be granted a single casino license, provided they meet other criteria. A couple of proposals are being floated, including the Pamunkey Indian Tribe that's looking to build a casino in Norfolk.
In addition, to live casino expansion, online gambling and sports betting will be legal under the measure. This will make Virginia the fifth state to regulate online poker and fourth state to regulate online gambling.
However, it will still be a while before you will be able to gamble either live or online in Virginia. There are still regulations to draw up and the deadline for regulations is June 30, 2020. The VLB is not allowed to issue any licenses before July 1, 2020.
As such, you probably won't see any form of online gambling in the state before the end of 2020, if not 2021. Live casino gambling is still a few years away as a casino location will have to be determined and the structure still needs to be built.
bottom corner