top corner
Vanessa Selbst Leaves PokerStars – Walks Away From Pro Poker
209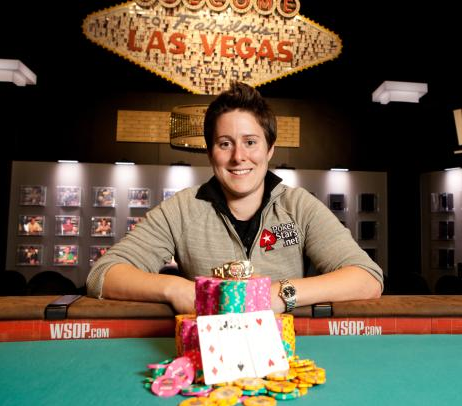 Sometimes a poker players makes an announcement that you don't really see coming, and then there are a few that you knew were going to happen sooner or later. On Sunday, Vanessa Selbst officially announced that she is no longer with PokerStars and is stepping away from professional poker.
While Selbst isn't exactly calling this a "retirement," she is acknowledging that she is largely stepping away from the game in pursuits of a career in a hedge fund. Selbst will walk away from pro poker as the winningest female in live poker tournament history.
Selbst Leaving PokerStars and Poker Because Priorities Have Changed
Selbst made her sudden announcement Sunday via both Facebook and Twitter:
I'm parting ways with PokerStars and moving on from poker in general. It's been the most amazing decade of my life. Thank you all for being a part of it. My full post is over on my facebook page, here. https://t.co/4U9xas6Kqu

— Vanessa Selbst (@VanessaSelbst) December 31, 2017
Her full statement is on Facebook where she starts off with her big reveal that she's left PokerStars and pro poker and that "there's no one specific reason, but just a number of factors, big and small, that contributed to a general feeling I've had for a while that it was the right time."
For starters, she went into how that Black Friday changed the complexion of pro poker for many. If you want to continue your career, you pretty much have to play live poker or play outside of the US. She said that the period of her life that she spent traveling the world for poker was fun but stated that "as my late 20s turned into my early 30s and my priorities changed toward building a stable home and community and starting a family, the constant travel is no longer tenable."
Next, she stated that she didn't feel comfortable promoting poker because she doesn't feel that online poker is beatable anymore. In addition, poker became "real work" to her recently and required more time and effort than she wanted to dedicate.
Instead, she stated that "the opportunity to work hard and learn something totally new and get to keep poker in my arsenal of fun go-to hobbies feels like the right approach."
Selbst Has Begun a Career in a Hedge Fund
What may be the most surprising part of this announcement considering Selbst's past is that she has begun a career at a hedge fund. According to her announcement, she has already been working at her new position for four months conducting trading research and strategy. She said that the new career is very challenging and that it's "exhausting, exciting, and completely humbling every single day."
Selbst talked a bit about how that she worked law firm defending police conduct plaintiffs but felt that the job didn't really suit her. Knowing Selbst's passion for social justice, many felt that would be the path her career would take her once she stepped away from poker.
However, it appears that Selbst is going to pursue a life similar to that of her mother's. She said that her mother was an options trader, lawyer and recreational poker player. She said that her mother's path in life "would have upset the hell out of me ten years ago, but makes me really happy now."
Selbst Walks Away as Top Female Pro in Tournament History
Vanessa Selbst is walking away from the game as the greatest female poker player in the history of live tournaments and definitely one of best poker players of the last decade.
Selbst has $11.8 million in live tournament earnings, 3 WSOP bracelets, 2 NAPT titles and a Partouche Poker Tour title. She also won the Super High Roller Celebrity Shootout in 2015 for $1 million. Selbst is also #1 on the Women's All-Time Money List and a guaranteed Women's Poker Hall of Famer once she meets the minimum age requirements.
However, Selbst has experienced quite a significant drop in earnings over the last two years. In 2016, she won just $115,975 after averaging $1 million in earnings the previous six years. This year, she only has $8,231 in earnings. Her lack of play seemed to indicate that she might be moving towards leaving the game professionally and Sunday's announcement confirms it.
Selbst did close that announcement stating, "whatever happens with my next career, I know that I'll never truly stop playing poker (just ask Fedor Holz what happens when you retire)! Seriously though, I will always love the game and the people in it and I'm so thankful for everyone I've met and everything I've experienced. So with that, so long, and thanks for all the fish!"
We wish Vanessa good luck in whatever she decides to do and completely expect to see her pop up in the poker world at some time in the future.
bottom corner