top corner
US Online Poker Predictions for 2021
2779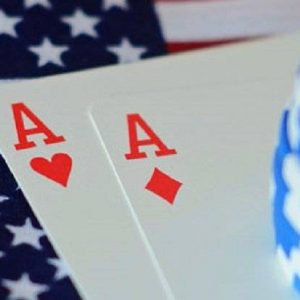 If you're in the United States, you know that your options are limited for online poker. For those in regulated online poker states like New Jersey, Pennsylvania, and Nevada, your options are further limited.
Now that we are in 2021, I figured I'd take a few moments and give my predictions on what I see happening with legal online poker in 2021. Granted, the COVID-19 pandemic will continue to impact things for much of the year, but it is still fun to speculate.
Michigan Goes Online But PokerStars Only
We know online poker is coming to Michigan, but we are not sure as to when. Online casinos will probably launch by March, but we don't know whether online poker will follow suit. What's more likely to happen is that casinos will launch and then online poker launches a bit later.
At this time, the only online poker site we think is a lock to launch in 2021 is PokerStars. WSOP.com and partypoker may join them, but not in 2021. The only way we see that changing is if the Wire Act verdict is given and the doors remain open for legal interstate poker.
West Virginia Gets Online Poker Too – PokerStars There Too
West Virginia already has online gambling, but online poker has yet to launch. There hasn't been much in the way of talk regarding online poker in the Mountaineer State, but that may change by the middle of the year.
Hey @PokerStars when can I expect a site launch for West Virginia online poker?

— TheFooseisLoose 🏈 (@mzicafoose) September 12, 2020
This is another state we predict will launch PokerStars. However, unlike other states, we don't see another provider launching anytime soon. The only way another provider launches is if West Virginia explores interstate online poker. Even then, it may not happen.
Online poker does not appear to be a priority in West Virginia, so it may be the middle of the year or later that it launches. We feel it will come through.
Connecticut Legalizes Online Poker
Last year, Connecticut tried to legalize online gambling, but the Governor blocked the legislature's attempt. It now appears that the Governor has corrected course and is now supporting online gambling. Why the change of heart? COVID-19. Governor Ned Lamont saw how important teleservices have become and realized that online gambling is another area where the state could benefit.
While we think online gambling and online poker will become legal in 2021, it will not launch until probably 2022. Hey, the state has to start somewhere, so we will take what we can get.
Yes Virginia – There is Online Poker
I live in Virginia and have been paying close attention to the legal maneuvering that resulted in four casinos becoming legal in the state. A fifth casino will be voted on later this year in Richmond, and there's no chance of that measure failing.
What some don't know is that the bill legalizing live casinos also allows online casino gambling, including online poker. Online gambling will be regulated through the Virginia Lottery and online gambling could potentially launch before live casinos in the state.
The state recently started offering Keno games at lottery ticket machines, so it is not a jump to expect the VA Lottery to start offering online casino and online poker games. I predict that discussions in this vein will start this year with an eventual launch coming sometime next year. Of course, if the casino partners put a little pressure (meaning they give some more money) to localities, we could see this timeline accelerated.
Pennsylvania Online Poker Expands
PokerStars still has a monopoly for online poker in Pennsylvania. We predict that this ends in 2021. WSOP.com and partypoker are the candidates most likely to open in the Keystone State. PokerStars has proven popular in PA and the time is right for a second and even a third online poker site.
If we were to guess, PokerStars will probably be the next site to open. With PA not offering interstate online poker, WSOP.com will be somewhat limited. Every current instance of WSOP.com in the United States is on the interstate network. Until PA is in a position to allow interstate online poker, we probably won't see WSOP.com.
bottom corner