top corner
Three Casinos Approved for Online Poker Licenses in Pennsylvania
717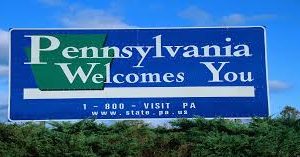 Ten casinos in Pennsylvania have applied for online gambling licenses in Pennsylvania and now three of those have been fully approved for licenses. During a meeting of the Pennsylvania Gaming Control Board on Wednesday, Parx Casino, Mount Airy Resort Casino and Harrah's Casino Philadelphia were all approved for online gambling in the state. We also know that at least one casino will not purse online poker.
Big Wheels Begin Turning in PA Online Gambling Machine
Three potential online poker providers were fully approved for online gambling licenses in PA on Wednesday. Chester Downs and Marina, LLC, owner of Harrah's Casino Philadelphia was approved for licenses along with Parx Casino owner Greenwood Gaming & Entertainment, Inc, and Mount Airy Casino Resort.
Under the licenses, each casino may offer online poker, online table games and online slot machines. The Wednesday meeting was just the first in a series of meetings with more to commence in September and October when the other six licenses requests are expected to be considered.
During one of those meetings, it was also revealed that Presque Isle Downs has only applied to offer online slots and table games in PA, choosing to skip online poker. That's actually not surprising as it's likely that the state will not be able to support more than three or four online poker providers max.
PokerStars and WSOP.com Locked In – But Will Parx Offer Online Poker?
We already know that Mount Airy has teamed up with PokerStars, meaning that PokerStars PA is a slam dunk. It is also likely that WSOP.com will be operated in conjunction with Harrah's Philadelphia. The one question mark of the three is Parx.
Parx is partnered with GAN as their online table games, online slots, and sports betting partner, but they presently don't have an online poker partner. That doesn't mean they won't offer online poker, but there is a chance that they may skip iPoker for now, or maybe they will come up with a partner as the state moves closer to an actual launch.
According to The Stars Group CEO Rafi Ashkenazi, he expects PokerStars PA to launch during Q1 of 2019. This would make sense considering the length of time that the application process is taking. Of course, that doesn't necessarily mean that all sites will launch on the same date as they did in New Jersey. Strategically, identical start days will work best for marketing and securing market share early on.
Still Too Early to Know What to Expect
While reports like these are fun in terms of watching the process unfolds, it is still too early to really know what to expect from the PA regulated market. Some sites like WSOP.com and PokerStars PA are pretty much givens at this point, but beyond that, we will learn more about what to expect as the process continues.
For example, will partypoker continue their expansion in the United States? It's expected they will team up with Valley Forge Casino following the sale to Boyd Gaming. Boyd and MGM both have a deal in place with partypoker and that's expected to extend into PA.
Otherwise, it is simply too early to know which providers will operate in the state and which casinos will skip online poker in lieu of table games, slots, and sports betting. The profitability of online poker outside of the well-known brands are likely going to be unpalatable for most casinos compared to that of the other products.
Of course, there are three casinos that can still apply for online gambling licenses on an individual basis. Mohegan Sun, Lady Luck Casino, and Meadows Casino can still apply for individual licenses for table games, iPoker, or slots at $4 million each.
For now, we can just sit back and watch the process continue to unfold and then later we will know more about what to expect for regulated online poker and general online gambling in Pennsylvania.
bottom corner