top corner
Stephen Sontheimer Loses $1.95 Million During the Summer
655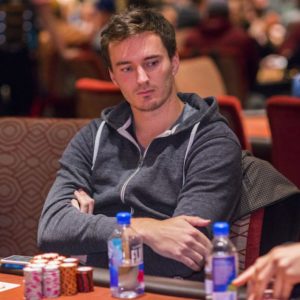 Daniel Negreanu has famously been transparent about his wins and losses over the last couple of years, revealing losses in each of the last two years. Now, Steffen Sontheimer has stepped forward with an accounting of his summer in Las Vegas.
According to a post he made on Friday, Sontheimer dropped an incredible $2.19 million in High Roller tournaments this summer, and only recouping less than 11% of that total.
Sontheimer Down $1.95 Million Over the Summer
Stephen Sontheimer took to Twitter on Friday to reveal a final accounting of his summer tournaments.
Finally accounting is done, just waiting for all shareholders to finally ship those moneyz.

Tourneys: 20
Bullets: 32
Buyins: 2,196,300
Cashes: 237,878

It's gonna be a great summer🙄

I know you love that stuff @RemkoRinkema pic.twitter.com/jTNV1u8jJr

— Steffen Sontheimer (@RunGo0seRun) July 27, 2018
As you can see, Sontheimer put down $2.19 million in events over the summer and only earned about $237k in payouts. That's a return of about 10.8%. Note, that this also includes that $1 million Big One for One Drop which accounts for nearly half of those total buy-ins.
Looking deeper at some of these numbers, a couple of things stick out. First, he is re-entering in Aria High Rollers very liberally. Five times he fired multiple bullets in ARIA events and once fired an insane five bullets for $129k, and failed to cash.
The only time that firing multiple bullets worked for him this summer was the $100k at the 2018 WSOP, and he failed to break even after only cashing for $155k. Also, he only made a profit on one event and that was the 25k High Roller that was right after the 2018 Super High Roller Bowl.
For the summer, Sontheimer lost $1.95 million in events around Las Vegas. He and Daniel Negreanu have similar summers with Negreanu losing over $1.3 million after spiking a $3 million hit during the Super High Roller Bowl.
How Much Came Out of Sontheimer's Pocket?
One question that went largely unanswered is how much that others invested into Sontheimer this summer. One person did ask Sontheimer how much action was sold and Sontheimer responded:
Enough to still have enjoy my summer. Not enough to not care🤣

— Steffen Sontheimer (@RunGo0seRun) July 28, 2018
While that answer is a bit vague, we could probably take an educated guess based on what is known about the high roller circuit. A number of players in high rollers sell pieces or are even fully backed by others and have very little of their own action.
It is not uncommon to hear about players only having about 20 to 30% of themselves max in an event. While we won't speculate on the exact dollar figure he had invested, the fact he can say he still enjoyed his summer would point to him not having invested a significant portion of the $2.19 million.
Transparent Accounting Would Wildly Change the Perspective of High Roller Events
While seeing the results of players like Negreanu and Sontheimer are very eye-opening, don't expect that to be the norm. Most players are very private about the amount of money they are investing in poker tournaments in general, especially high rollers.
Knowing the volatility of tournaments, it is safe to assume that there are many more players like Sontheimer in the high roller circuit. Players can't always expect to have consistent sustained runs like Fedor Holz or Justin Bonomo.
Also, the sheer volume of high roller events now makes playing a healthy schedule financially crippling. That's why so many players compete in these events having such as small piece.
Another reason we won't hear honest account across the board is that it will detract from the events. If it is known that a $1 million win by a random high roller doesn't even get them to break even on the year, it tends to kill the significance of the win because the player is still losing overall.
Fans want to hear about the record-setting cashes and the monster scores from players, not how they're so deep in the red that they have to win the Main Event to get their bankroll healthy. For now, we can just appreciate those that come out and share honest accounting while continuing to suspend belief when it comes to the rest.
bottom corner