top corner
Stephen Chidwick Wins Australian Poker Open Championship
1948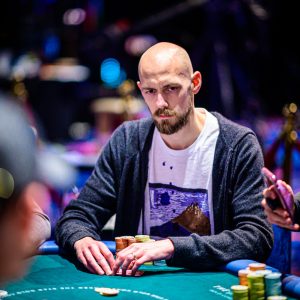 The Australian Poker Open is now in the books and the APO Champion crowned. Early Saturday morning, Michael Addamo won the $100,000 Main Event to secure his first APO title along with $1.28 million in prize money.
Meanwhile, Stephen Chidwick came into the final table and had a shot to win the APO Championship. He managed a fourth-place finish and leapfrogged Andras Nemeth for the title.
Michael Addamo Wins APO Main Event
The Australian Poker Open featured seven events with buy-ins ranging from $10,000 to $100,000. The final event was the $100,000 NL Hold'em Main Event. The event drew a field of 28 entries to create a prize pool of $2.8 million AUD.
Due to the field size, only the final four players were paid. The final table of this event started five-handed with both Michael Addamo and Kahle Burns representing Australia while Stephen Chidwick, Alex Foxen, and Aaron Van Blarcum represented the United States.
Since only four were paid, that meant one person went home as the bubble boy. While Kahle Burns has been on fire in recent months, he was extinguished on the bubble. He was all-in with pocket kings and Addamo made the call with Q-8 of spades. Addamo spike two eights for trips, and those proved enough to send Burns home on the bubble.
This left all other players in the money. Stephen Chidwick was the short stack with four players left and was knocked out in fourth place, good for $280,000. Alex Foxen has another deep high roller finish, this time finishing third for $448,000.
This setup heads-up play between Michael Addamo and Aaron Van Blarcum. However, Addamo held a monster chip lead for the entire final table and quickly dispatched Van Blarcum. Van Blarcum walked away with a $784,000 payday.
Michael Addamo won his first APO title along with $1.28 million in prize money.
Michael Addamo keeps the $100K title in Australia! Wins #APO🇦🇺 Main Event for more than $1.2 million: https://t.co/j4lvVmqlX2 📺 pic.twitter.com/Q46DQ162Zq

— PokerGO (@PokerGO) February 1, 2020
Stephen Chidwick Wins APO Championship
While Stephen Chidwick only finished fourth in the Main Event, he did earn 140 APO Championship points. Heading into the final table, he was 120 points behind Andras Nemeth in the APO Championship standings. As such, Stephen Chidwick won the inaugural Australian Poker Open Championship by 20 points.
After winning the championship, he told Poker Central, "It feels great. I would love to complete the collection, get the whole set." By this, Chidwick was referring to the face he won the US Poker Open Championship title in 2018. He also finished second in the British Poker Open Championship in 2019.
A bad beat busts Kahle Burns on the $100K bubble and crowns Stephen Chidwick as the 2020 Australian Poker Open Champion! https://t.co/j4lvVmqlX2 #APO🇦🇺 pic.twitter.com/dXDoMxz3TO

— PokerGO (@PokerGO) February 1, 2020
Chidwick continued, "Hopefully these style of events continue because I think it's a bit more of an achievable accolade to win a multiple of or, over time, determine who the best player is rather than looking at a single tournament. Obviously there's a lot of luck involved in this too, but over the course of seven, eight, or ten events you're going to see the better players win more often and it would be fun to see who can collect the most titles like this."
For winning the APO Championship, Chidwick earned the APO Championship trophy along with a $50,000 prize. Chidwick earned a total of 650 points during the series, along with $949,000 in prize money. His earnings were second only to Michael Addamo who won $1.68 million.
Australian Poker Open Likely to Return
The inaugural Australian Poker Open was held at the Star Gold Coast Casino in Queensland and was considered a tremendous success. Star Gold Coast COO Jessica Mellor was on hand after Addamo's win to congratulate both him and Chidwick on their successes.
Mellor stated that "The poker that we are witnessing is at another level to what we've experienced since we opened our state-of-the-art poker facility last year – and we can't wait to see more thrilling moments as these tournaments continue."
As such, it is safe to assume that this event will return in 2021. If the event is again positioned right after Aussie Millions, it is likely to duplicate the success it enjoyed in 2020.
bottom corner