top corner
Stephen Chidwick and Sam Soverel Win Pair of ARIA High Rollers
605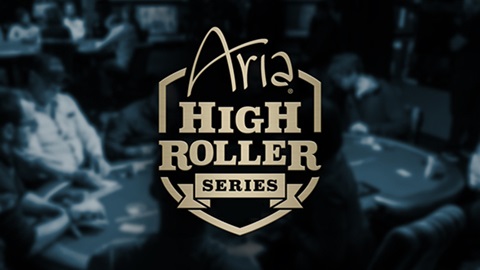 The majority of the poker world continues to focus on the 2018 World Series of Poker in Las Vegas. In the meantime, there millions being played for weekly at the ARIA Resort & Casino. The ARIA High Roller Series continues with a combination of $10k and $25k NL High Rollers.
Stephen Chidwick and Sam Soverel have been running hot in the last week. Both scored a pair of victories in events in the past week with Chidwick making two additional final tables. Adrian Mateos and Elio Fox also won events.
Stephen Chidwick Makes Four Final Tables in a Week
Stephen Chidwick continued his sick 2018 run this past week, making four Aria High Roller final tables, including back-to-back victories.
The first of his two victories came on June 29 in a $25k High Roller. This event only drew five players and became a "winner takes all" event. Chidwick came out on top, scooping the entire $125,000 prize pool.
— Sean McCormack (@ThePokerBoss) June 30, 2018
Then this past Tuesday, Chidwick took down a $10k NL High Roller. This one drew 33 entries for a prize pool of $330,000. The final table included Justin Bonomo, Jake Schindler, and Adrian Mateos.
Ultimately, it was Chidwick and Mateos battling for first with Chidwick taking the title and $132,000. Mateos snagged $85,800 for second.
Chidwick went on cash in the other $10k NL High Roller ran on Wednesday, finishing in fifth for $23k. He then made his third final table in as many days on Thursday when he finished fifth in a $25k High Roller for $60k.
With his recent scores, Chidwick has made $7.34 million in 2018, more than double his career best in 2017. He has $17.36 million in career earnings.
Sam Soverel Wins Pair of High Rollers
Sam Soverel also scored himself a pair of Aria High Roller victories in the last week. He started his run on June 27 when he won a $25k High Roller. The event drew a field of 13 entries for a prize pool of $325,000.
Only the final two were paid and it was Soverel and Poker Central boss Cary Katz battling for the title. Katz has been in contention in several Aria High Rollers recently but has failed to break through.
Unfortunately, his near missed continued in this one as he finished runner-up, earning $97,500 in the process. Soverel earned $227,500 for what proved the first of two victories.
Soverel celebrated the Fourth of July with a victory in the $10k NL High Roller. This one drew 23 entries for a prize pool of $230,000. The final four players were paid in this one. As mentioned earlier, Stephen Chidwick finished fourth in this event. Elio Fox finished in third.
Results from yesterday's @ARIAPoker $10K High Roller

Today at 2pm is a $25K High Roller (held in @PokerGO Studio) pic.twitter.com/vaWUpJcQyK

— Paul Campbell (@TDPaulCampbell) July 5, 2018
Once again, it was Soverel and Cary Katz battling heads-up, and like the previous battle, Soverel came out on top. Katz earned $64,400 for his second straight runner-up finish while Soverel earned $105,800.
Elio Fox Wins $10k High Roller
Elio Fox has been on a hot streak this summer. First, he won the $10k NL Turbo at the start of the 2018 WSOP and then finished runner-up to Nick Petrangelo in the $100k NL High Roller. Last Sunday, he took down the first of three $10k NL High Rollers at ARIA.
Elio Fox received the first bracelet of this year's WSOP, taking down Event 2: $10,000 Super Turbo Bounty https://t.co/8g8NsGmkVL pic.twitter.com/MLCtYRKYOs

— WSOP (@WSOP) May 31, 2018
The $10k NL High Roller drew 38 entries with a prize pool of $380k. The final six players were paid. Cary Katz and Sam Soverel both made the final table along with Dan Smith, John Andress, and Adrian Mateos.
In the end, it was Mateos and Fox battling for the title. Fox came out on top, earning $136,800 Mateos earned $91,200 for second.
Adrian Mateos Wins $25k High Roller
Adrian Mateos has been on fire at Aria High Rollers this summer. From late May through June, Mateos made four final tables with one win, one runner-up, and two third-place finishes.
In the last week made three final tables with another victory and two runner-up finishes. We've already reported on his runner-up finishes, but he capped off his week with a win in the $25k High Roller on Thursday.
Conrats to @Amadi_17 for his @ARIAPoker $25K High Roller victory 😎

$25K High Rollers the next 3 days, all held in the @PokerGO Studio pic.twitter.com/SGxSJgvAqL

— Paul Campbell (@TDPaulCampbell) July 6, 2018
Thursday's $25k High Roller drew 30 entries with a $750k prize pool. Stephen Chidwick, Talal Shakerchi, Jared Jaffee, and Dominik Nitsche made the final five.
Ultimately, it was Dominik Nitsche and Mateos heads-up and the pair agreed to a chop. Nitsche finished second, earning $245,120 while Mateos earned $249,880.
ARIA will continue to offer $25k events through July 17. With multiple high roller tournaments, including the $1 million Big One for One Drop still to be played at the Rio, expect the final few ARIA High Rollers to be well attended.
bottom corner