top corner
Ryan Eriquezzo Wins WSOP Global Championship – But Did Anyone Notice?
1526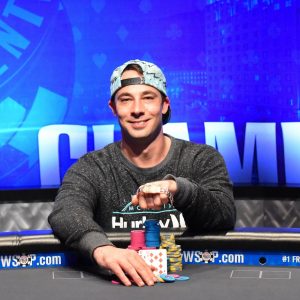 In case you missed it, and chances are you did, the 91st World Series of Poker bracelet was awarded this past Thursday. Ryan Eriquezzo took down the Global Circuit Championship at Harrah's Cherokee for his second career WSOP bracelet and his second Circuit Championship.
The WSOP Global Circuit Championship is the culmination of the WSOP Circuit season, but with the lack of hype for this event, one has to wonder if the event has become as irrelevant as the WSOP Employees Event.
Ryan Eriquezzo Wins Second Circuit Championship
The WSOP Global Circuit Championship kicked off on August 6th at Harrah's Cherokee in Cherokee, North Carolina. Players could get into the event in one of three ways. The first is to win an automatic entry either by winning the Main Event of a WSOP Circuit stop or win the Casino Champion point title at an individual stop.
The second way to make the Global Championship is to be one of the top 50 in points by the end of the WSOP Circuit Season. These players also get automatic entries. The last way to enter is to be a previous WSOP bracelet winner and to buy into the event for $10,000.
The event drew a field of 129 players, just cracking the $1 million guarantee. As expected, the final table of the event has plenty of big names and none bigger, at least in the Circuit world, than 13-time Circuit ring winner Maurice Hawkins. He was looking to finally break through for his first WSOP bracelet.
Unfortunately, it was not to be as he would ultimately fall in third place, setting up a heads-up match between Eric Salazar and Ryan Eriquezzo. The pair battled back and forth for a while and Salazar made the right move at the wrong time to finish runner-up.
In the final hand, Salazar checked at the turn on a board of Jd-7d-3d-2h and Eriquezzo bet 670k. Salazar then shoved and Eriquezzo insta-called. He turned over Kd-10 for a second-nut flush and Salazar turned over Ac-6d and was drawing dead. Salazar finished runner-up, earning $172,431.
Ryan Eriquezzo won his second career WSOP bracelet and his second WSOP Circuit Championship in this event. He also earned $279,431. Back in 2012, Eriquezzo won his first bracelet for winning what was then called the WSOP National Championship.
Eriquezzo now has four circuit rings and two WSOP bracelets. While his ring total is not as impressive as some players, his two bracelets some would argue are a greater accomplishment. At least those that know that this event even took place.
How Relevant is the WSOP Global Championship
If not for articles like this one, most poker players would not even realize that another WSOP bracelet was awarded last week. The WSOP Global Championship is not publicized in the same way as other WSOP bracelet events. In fact, there appeared to be no buildup whatsoever for the event.
The prestige of this event is beginning to rival that of the WSOP Casino Employee's Event. Outside of Chad Holloway, can you name a single Employee's Event winner? Can you name one player besides Eriquezzo that's won a Circuit Championship? If you said Loni Harwood, good for you! Name me another. Most of you cannot.
An event such as this should be one that has a bit of hype behind it. It is supposed to be the season-ending event to crown the overall champion and not some random event held at a casino in North Carolina.
This event would be better served to play at the World Series of Poker in Las Vegas or at least at an Atlantic City property. That way we could put more of a spotlight on the event. Otherwise, this event will only be important to those on the Circuit and in time the importance of the bracelet will be equal to that of forgettable WSOP events such as the Casino Employees Event.
bottom corner