top corner
PokerStars to Retire Power Up Poker
1800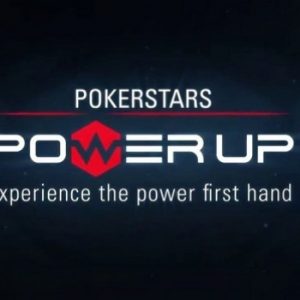 Back in 2017, PokerStars tried to appeal to the Hearthstone crowd with the poker hybrid Power Up. The game was released in late 2017 for real money but has never become overly popular with the poker community.
According to a recent report from Poker Industry Pro, it appears that PokerStars is about to scrap the concept in favor of new poker variants.
Power Up to Be Removed From PokerStars Client
Poker Industry Pro reported earlier this week that PokerStars will be removing their Power Up poker variant sometime soon after two years on the client. For those that don't remember Power Up, don't feel bad. It was a niche variant of Texas Hold'em that tried to apply elements of games like Hearthstone to Texas Hold'em.
Players had various optional power ups at their disposal, including the ability to clone their last card, disintegrate board cards, or to force your opponent to show one of their hole cards. It added an additional strategy element to the game that could be both fun and frustrating when you were on the wrong end of a power up.
A PokerStars representative told Poker Industry Pro that the game had a solid following, but despite this, the game will no longer be offered on the client. This is not that surprising since neither the company or its sponsored pros have been hyping the game for quite some time. Instead, we hear more about other games such as 6+ Hold'em.
PokerStars is not the only company to tinker with Hearthstone-like poker games. Mediarex released HoldemX back in 2016, but the game never progressed past the social media stage. This is partially due to the fact that the Global Poker League never made it past Season 1 in the United States.
A bit sad to see @PokerStars Power Up ⚡️ being shelved – a game that I enjoyed playing the most 🙁 https://t.co/zImyB4H4Kk

— Anuj Arora (@anuj2212) November 12, 2019
What Will Be Replacing Power Up?
With Power Up on the way out, some may be wondering what is on the horizon at the World's Largest Poker Site. According to Poker Industry Pro, PokerStars is about to release two new games. They are called Deep Water Hold'em and Tempest Hold'em.
Details on the games have yet to be released, but one can assume they will be some unusual twist on Texas Hold'em that will be loved by some and likely hated by most poker purists. Games like Showtime Poker and Split Hold'em have been released regularly by PokerStars, and usually to mixed results.
Often, these games start as real money options on ring-fenced sites such as PokerStars France or PokerStars Italy and then are later rolled out to the ROW.
Kudos to PokerStars For Continuing to Test New Variants
I remember back when both PokerStars and Mediarex release their versions of Power Up and HoldemX. Having tested both games, I could see the appeal of these games for some players but at the same time, I never saw either game as being a viable long-term alternative to Texas Hold'em.
There are people out there that enjoy Hearthstone and similar games, but they are not necessarily those that want to gamble on those elements. Adding a betting element to Hearthstone, Magic, or other games also adds a level of stress that some prefer to avoid. Power Up certain taps into the crowd that loves both poker and Hearthstone, but the crowd is not large enough to sustain the games.
With that said, we still applaud PokerStars for continuing to try new things and present new poker variants to the public. Online poker is responsible for many modern developments in poker and PokerStars can help to shape the game of poker in a positive way for the future. We look forward to future variants and hope that the next additions strike a chord with the poker community.
bottom corner