top corner
PokerStars to Partner With Mount Airy Casino Resort in Pennsylvania
703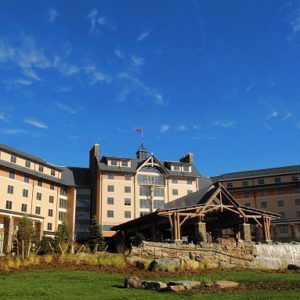 There was little doubt that PokerStars would enter the PA market once online poker and online gambling regulation passed last year. Now we officially know their partner. According to reports, PokerStars will be partnering with the Mount Airy Casino Resort to offer online poker, online casino games, and sports betting in Pennsylvania.
PokerStars Officially Announces Partnership with Mount Airy
On Friday, The Stars Group and Mount Airy Casino Resort issued a press release announcing their partnership for online casino games, online poker games, and sports betting products.
@PokerStars can it be true? Has pokerstars partnered with Mount Airy to bring Pennsylvania poker? Please let this be true.

— Johnny Ghost (@Hollowfied03) July 14, 2018
According to Matt Primeaux, SVP Strategy & Operations, USA at The Stars Group, "We're excited to take this next step as The Stars Group looks to broaden its presence in the United States. In partnership with Mount Airy Casino Resort, we believe we're well positioned to capitalize on opportunities in the Commonwealth by bringing our world leading offerings to Pennsylvania players."
Vincent Jordan, Vice President of Marketing & Gaming Operations, Mount Airy Casino Resort, also spoke on the partnership, stating, "As one of Pennsylvania's leaders in entertainment, offering internet sports wagering and gaming and partnering with The Stars Group is the obvious next step for us to continue diversifying our casino offerings. Introducing internet gaming through The Stars Group will provide compelling opportunities for our customers, particularly our younger customers, who are ready to experience the next gaming challenge."
This announcement comes following the announcement of an expanded partnership with Resorts Casino Hotel in Atlantic City. They will be offering their BetStars sports betting platform alongside PokerStarsNJ and PokerStarsCasinoNJ.
What Will This Mean for the Future Of Online Gambling?
For the immediate future, all this means is that we know another site that plans to operate in Pennsylvania. A launch date for online gambling, online poker, and sports betting has yet to be set, but it is expected to be later this year.
Regardless of the launch, many are looking forward to the future as there are now multiple possibilities for interstate networks. Once WSOP.com PA launches, expect talks to become serious for a four-state interstate network between NJ, NV, DE, and PA. However, they will not be the only potential networks to look forward to.
Both PokerStars and partypoker will now have the ability to expand into a multi-state network as both are expected to operate in PA. Of the two, a potential NJ-PA network has massive potential considering the size of both markets. It will also start to create some legitimate competition for the core interstate network.
PokerStars is also actively looking for other casino and media partners for future expansion in the United States. States such as Mississippi, West Virginia and Rhode Island have already legalized sports betting, making them potential sports betting partners. Other states are expected to also examine online gambling regulation in the next couple of years, potentially opening the door further for continued growth.
At present, WSOP.com has a stranglehold on the regulated US poker market as they are the only company to have a presence in all four regulated states. However, the expansion of PokerStars to Pennsylvania is likely just the start of Caesars beginning to lose their grip on the regulated poker market. As other states regulate and allow PokerStars to operate, they will slowly become a force in the US, and Caesars will likely be relegated to the equivalent of Full Tilt Poker pre-Black Friday.
That's not a bad thing because unlike Full Tilt, Caesars will not abscond with $400 million in player funds. What it will do is setup solid competition between brands and give players choice in where to make their deposits and play. A future second online Poker Boom is coming. It may simply take a few years to get ramped up.
bottom corner