top corner
Poker News Bites: Dan Colman Wins King of the Hill III – AcePlay Poker Shuts Down
93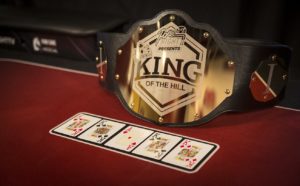 The third installment of Poker Night in America's King of the Hill challenge kicked off this week without much fanfare. Olivier Busquet failed to defend his title and instead the belt now belongs to Dan Colman.
Meanwhile, a lesser known online poker site in Nevada has decided to shut down their doors prior to offering real money online poker in the state. WSOP NV remains the only valid option to play real money iPoker in Nevada.
Dan Colman Wins King of the Hill III
The third edition of Poker Night In America's King of the Hill heads-up challenge kicked off on Wednesday at the SugarHouse Casino in Philadelphia. Olivier Busquet returned to defend his title and joining him were 2017 WSOP Main Event Champion Scott Blumstein, Brandon Adams and Dan Colman.
The semi-finals kicked off on Wednesday with Blumstein facing Adams and Colman facing Busquet. Adams dispatched the reigning Main Event Champion while Busquet's title reign ended in a first round sweep to Colman.
Adams faced off against Colman on Thursday in the final in what was supposed to be a best-of-3 series. The victory earned Colman the $200,000 winner takes all prize along with the Championship belt.
Colman is the third King of the Hill winner. Phil Hellmuth won the initial event with Olivier Busquet winning the second. A fourth installment of the series has yet to be announced, but odds are we will hear about it in the near future.
AcePlay Poker Shuts Down
Nevada has lost another online poker room, but odds are that few actually knew it even existed. According to recent reports, AcePlay Poker has announced that they will be closing down their free play online poker site next month.
AcePlay Poker was originally launched by the Stratosphere in Las Vegas and was expected to start taking real money bets at some point in the future. Instead, the site was sold to Golden Entertainment earlier this week and the new company has decided against pursuing real money online poker.
The site has been in operation since 2013, running on software powered by Ongame. The site offered players chances to win prizes in the form of entertainment packages at the Stratosphere. It never offered any real money prizes despite being the Stratosphere holding a license to offer real money online poker.
In 2013, there were 3 sites offering real money online poker in Nevada. WSOP NV, Ultimate Poker and Real Gaming were the first, and so far the only, sites to offer real money iPoker. Real Gaming was never a viable option, averaging less than a full table of players at any one time.
Ultimate Poker folded shop within a year after being unable to turn a profit. WSOP NV has since enjoyed a complete monopoly on iPoker in the state and enjoys the benefit of being linked with the World Series of Poker each summer at the Rio in Las Vegas. That integration has resulted in significant spikes in online poker traffic each of the last two summers.
bottom corner