top corner
Platinum Pass Winner Ramon Colillas Wins PokerStars Players Championship
1030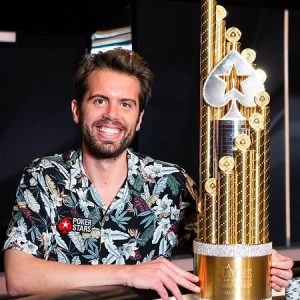 For nearly a year, we watched and waited as PokerStars awarded Platinum Pass after Platinum Pass into the $25,000 PokerStars Players Championship. Few actually expected much from most Platinum Pass winners with most just "happy to be there."
Amazingly, two Platinum Pass winners managed to make the final table of the PokerStars Players Championship with one actually defying the odds and walking away with the top prize of $5.1 million.
Two Platinum Pass Winners Make the Final Table
The big story heading into the final table of the $25,000 PokerStars Players Championship was that both Marc Rivera and Ramon Colillas managed to turn a Platinum Pass entry into a monster payday by making the final table.
Neither player had much to speak of in the way of live tournament earnings compared to the rest of the final table, but they were basically freerolling their way to at least guaranteed mid six-figure payday. At the final table, they had to face a strong field that included Scott Baumstein, Talal Shakerchi, Jason Koonce, Farid Jattin, and Julien Martini.
At the start of the final table, Scott Baumstein was the chip leader with Marc Rivera just behind. Julien Martini, Ramon Colillas, and Farid Jattin all had over 30 big blinds. Marc Perrault was the short stack with just a mere nine big blinds.
Perrault Manages to Ladder to Sixth
With just nine big blinds at the start of the final table, it seemed that Marc Perrault would be the first out. However, he doubled on the second hand of the final table to give himself some life. Afterward, he watched as Talal Shakerchi and Farid Jattin both were eliminated.
Shakerchi was all-in with pocket aces against As-Qs for Julien Martini. Martini ended up hitting runner-runner flush to send Shakerchi to the rail for a $509,000 payday. Jattin was all-in pre-flop with A-J and called by Julien Martini, this time holding Ah-Kc. The board blanked both players and Jattin exited in seventh for $746,000.
Perrault eventually hit the rail in sixth place. He was all-in from the big blind with 6-3 and facing pocket kings from Ramon Colillas. The kings held and Perrault exited for just over $1 million.
Ramon Colillas Wins PokerStars Players Championship
Jason Koonce and Scott Baumstein hit the rail in fifth and fourth place respectively, earning $1.3 and $1.6 million each. This left two Platinum Pass holders in the top three.
Marc Rivera was the short stack three-handed and eventually put the last of his chips in with A-3. Julien Martini made the easy call with A-K and both players were kicker hunting. However, neither player hit their kicker and Rivera turned a Platinum Pass freeroll into a $2.16 million score.
At the start of heads-up play, Julien Martini held more than a 2:1 chip lead over Ramon Colillas. Colillas closed the gap a bit but doubled up in a sick way against when he hit runner-runner full house against a flopped flush for Martini.
The sick beat effectively ended any and all momentum that Martini had and soon he found himself facing a monster chip deficit. Finally, he was all-in with Jc-9c and Colillas made the call with Ad-5s. Both an ace and nine hit the flop, giving both players a pair. The turn blanked both players but the river fell a five to give Colillas two pair and the single largest payday of his life.
Prior to this event, Ramon Colillas had about $10k in live tournament earnings. This win is clearly life-changing money for the small stakes poker pro from Spain. He earned $5.1 million and the respect of players around the world for being the winner of the inaugural PokerStars Players Championship.
bottom corner