top corner
Phil Ivey to Return to Live Tournaments in 2018
Phil Ivey To Return To Live Tournaments In 2018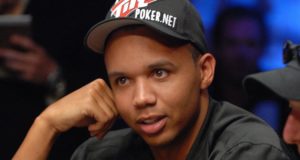 The biggest name that has been noticeably absent from live tournament play over the last year is Phil Ivey. Ivey has been keeping an extremely low profile, so much so that he skipped the entire 2017 World Series of Poker. It now appears that we have an answer as to when we will see more of Ivey – sometime in 2018.
Where In the World is Phil Ivey?
The big question on everyone's mind has been "Where is Phil Ivey?" He has recently been in Beijing to promote the Chinese App Zhi You but he has largely been absent from the poker world with a few rare instances of playing in high stakes cash games in Las Vegas.
An article released on Saturday at SoMuchPoker.com has revealed that Ivey is presently living in Hong Kong and is presently playing in some of the world's largest cash games. He wouldn't confirm what games he's playing, but knowing Ivey's tendencies to play as high as possible, one can only imagine.
When Will We See Ivey Again in Live Tournaments
The article continues, stating that Ivey has stated that he will be making a return to live tournament play sometime in 2018. He claims that he's presently taking care of some personal family issues and didn't want to be part of the media at the moment and decided to take time off to address those issues.
So Much Poker posted a video about Ivey's return. You can watch it below:
Some of those "family issues" likely includes a pair of court cases surrounding earnings won through edge sorting in Baccarat games at both the Borgata in Atlantic City and Crockfords Casino in London. He is in the middle of appealing decisions in both cases.
Ivey did not specify when in 2018 he would return but Aussie Millions would be relatively close to his new home in Hong Kong. The event no longer has the $250,000 Challenge, but still sports the $100k Challenge which is one of the premier High Roller tournaments of the year.
Ivey 6th on All-Time Money List
At one time, Phil Ivey was the winningest player in poker history. Between staying entire years away from the felt and the rise of players like Fedor Holz and Dan Colman, Ivey now sits 6th on Poker's All-Time Money List.
Ivey has $23.85 million in live tournament earnings, $10.5 million less than Daniel Negreanu. Ivey's last live tournament cash was in early 2016. His last win was in 2015 at Aussie Millions in the $250,000 Challenge.
Ivey is presently tied with Doyle Brunson and Johnny Chan for most career WSOP bracelets. Ivey won his 10th career bracelet in 2014 and effectively quit playing the WSOP afterwards. Phil Hellmuth is well ahead of Ivey with 14 career bracelets.
Despite being a no-brainer for the Poker Hall of Fame, Ivey was forced to wait until 2017 to be inducted due to the Chip Reese Rule that requires entrants be 40 years of age. Ivey turned 40 in 2017 and was inducted easily. Sadly, WSOP officials chose to merely make an announcement during the WSOP Main Event broadcast and otherwise largely overlooked this magnificent achievement.
Should Ivey return in 2018 and perform well, he will certainly shoot up the money list. Many poker fans are eager to see him return to active WSOP participation in order to give Hellmuth a run at the all-time bracelet lead.
bottom corner