top corner
Phil Ivey Ruled a Cheater By UK Supreme Court – Loses $10 Million in Winnings
96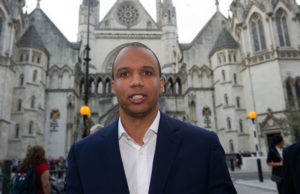 Phil Ivey has been battling with Crockfords Casino in London since 2012 over £7.7 million in Punto Banco earnings that the casino refused to pay him. The case took Ivey all the way to the UK's Supreme Court but the ultimate outcome is not what the 10-time WSOP bracelet winner had hoped for.
The Supreme Court decided to unanimously uphold a 2014 Court of Appeal's ruling against Ivey and in the process declared that Ivey was a cheat. This case not only puts this 5-year case to an end but may open the door for Ivey to lose millions more in a similar case in Atlantic City.
Supreme Court Ruled Ivey Conducted a Sting Against Casino
News broke last week regarding Phil Ivey's Supreme Court case against Crockfords Casino and the ultimate verdict was the worst possible for Ivey and his legal team. The court was to decide whether or not that dishonest was a necessary element of cheating.
Ivey had employed a tactic known as edge sorting to take advantage of flawed cards being used by the casino. Ivey portrayed himself as a superstitious player and made various requests to the casino and the dealer, including having the dealer turn the cards around into a certain way so that Ivey could better see the flaws.
He was able to determine the values of certain cards using this technique and ran up nearly $10.1 million USD in the process. Later, the casino determined that Ivey had violated their rules and refused to pay Ivey. This resulted in the prolonged court case that led to last week's decision.
The Supreme Court ultimately ruled that Ivey was not merely dishonest but actively engaged in cheating against the casino. One judge, Lord Hughes, stated that Ivey conducted a "carefully planned and well executed sting and believes that Ivey conducted "positive steps to fix the deck and therefore constituted cheating."
Continuing further, he stated, "If he had secretly gained access to the shoe of cards and personally rearranged them that would be considered cheating. He accomplished the same results by directing the actions of the croupier and tricking her into thinking that what she did was irrelevant."
As such, Crockfords Casino will not be forced to pay Ivey his winnings. Ivey's initial stake was returned to him, but he will not receive any "winnings" because it has been deemed that they were earned through cheating.
Decision is Likely a Death Knell to Borgata Case
Ivey is also appealing a NJ District Court decision regarding a similar case from Atlantic City. In 2012, Ivey won over $10 million playing Baccarat at the Borgata Hotel Casino & Spa through using the same edge sorting techniques. The casino paid Ivey his winnings but later determined that Ivey had defrauded them.
Last year, U.S. District Court Judge Noel Hillman ruled in favor of the Borgata, basically stating that Ivey had violated his casino contract, one that he deemed was "tainted from the beginning and breached as soon as it was executed.
Ivey afterwards appealed the decision but after the Crockfords Casino ruling, it is likely that Ivey's appeal will be unsuccessful. Should that happen, Ivey will be forced to repay $10 million to the casino unless some other negotiation is made beforehand.
Phil Ivey has been noticeably absent from the poker world over the last couple of years and completely skipped the 2017 World Series of Poker. He recently stated that he will be returning to tournament poker sometime in 2018, likely after all of his "personal issues" are behind him.
bottom corner