top corner
Pennsylvania Now Officially Fourth US State to Legalize Online Poker
103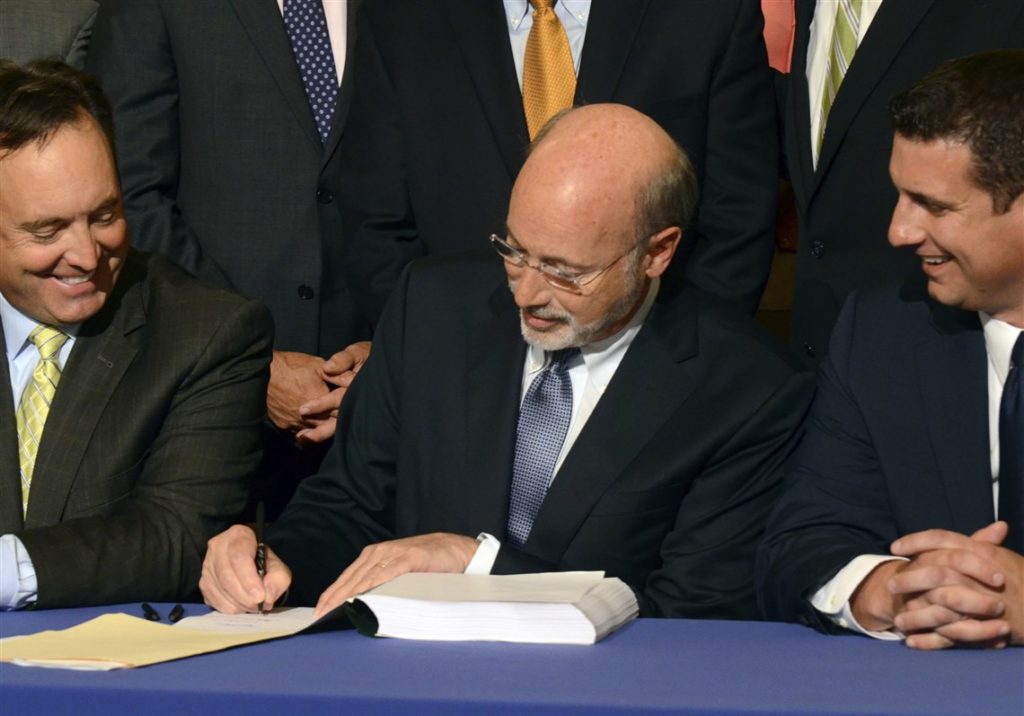 Pennsylvania has officially become the fourth state in the United States to regulate online poker and the third to regulate most forms of online gambling. On Monday, Governor Tom Wolf signed H 271 into law, legalizing several forms of online gambling that includes online poker, casino games, Daily Fantasy Sports, online lottery ticket sales and tablet gaming.
This bill will be a boon for Pennsylvania in terms of tax revenue but more importantly it will help to strengthen the regulated online gambling market in the United States.
Governor Picks Gambling Expansion Over Tax Increases
The signing of this bill by Gov. Wolf brings a four year journey to conclusion. The state started examining online gambling in 2013 with a feasibility study and has tried unsuccessfully to pass a bill every year since.
According to an Associated Press report, Gov. Wolf did not favor passing a gambling expansion bill, but ultimately felt that passing such a measure was better than raising taxes. The state is in the middle of trying to close a $2 billion budget deficit in 2018 and online gambling is expected to produce up to $200 million in revenues. At least $100 million of that is expected to come in the form of licensing fees.
The Governor also intended to whatever possible from causing cannibalization of current tax revenues. This is likely to an uninformed opinion shared by many that online gambling will harm rather than hurt live casino revenues.
According to Gov. Wolf, "There's been a lot of pressure from a lot of places in the commonwealth to actually expand this, and we do need some recurring revenue.
Again, the goal has been all along to do what's prudent, not cannibalize existing gambling revenue coming to the state, and I think what we're settling on will actually do that."
New Jersey has proven how valuable online gambling can be to the live casino industry. Online gambling helped the Atlantic City casino market post its first annual increase in a decade in 2016 and they are expected to post a second year of gains this year.
Pennsylvania Becomes New Backbone of Regulated Market
Pennsylvania is the second largest casino state in the United States and will likely become the largest online gambling entity in the regulated market. New Jersey is currently the industry leader and will remain atop that mountain for a while yet, but should Pennsylvania prove successful, they should become the industry leader within a couple of years.
The only thing that may hurt the PA iGaming industry is the tax rate on slot games. Online slot games will be taxed at 54%, the same as live slots. Many fear that this will become prohibitive to many online casino operations.
However, some also believe that casinos will instead come up with a table-slot hybrid that will allow games to be taxed at the much lower rate of 16% for table games and online poker. Consider how online poker flop games are dealt, a similar system could be incorporated for a slot-table game hybrid quite easily.
For now, the Gaming Control Board will be busy setting up the process for casinos and other operators to apply for gaming licenses. There will be 12 licenses available for starters but that may increase as other casinos open in the state.
Once the GCB starts taking applications, existing casino license holders will be able to apply first, followed by other operators. If PA follows a regulation and launch path similar to New Jersey, it may be sometime in the second half of 2018 that we see online poker games go live in Pennsylvania.
bottom corner