top corner
No NY Online Poker in 2018 – PA Casinos Inactive
566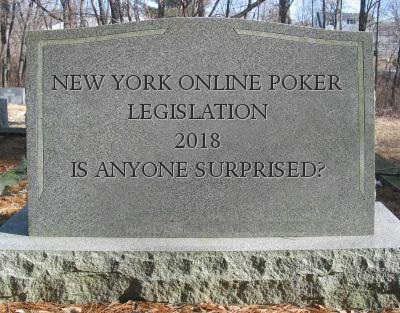 Remember all of the hype behind online poker regulation in New York last year. How about the hype surrounding it after the passage of iGaming legislation in Pennsylvania?
Well, now it appears that online poker is a dead issue as the NY Assembly ended the 2018 legislative year without passing any type of iGaming legislation.
By the way, remember all of the hype behind iGaming in Pennsylvania. So far, that's all it has been because Online Poker Report reports that there have been no applications for iGaming licenses in the state after two months.
NY iPoker Dead Until 2019 – Maybe Longer
The majority of iGaming analysts predicted that New York would pass either online poker or sports betting legislation at some point in 2018. With Pennsylvania joining New Jersey, Delaware, and Nevada in the regulated market, many assumed that New York would follow suit.
Fast forward until Thursday and iGaming expansion has been tabled yet again. So what happened? Wasn't this the year that NY joined the regulated ranks? Many overlooked the impact of sports betting and online poker became an afterthought once it became evident that PASPA would be overturned.
With that said, sports betting legislation didn't go anywhere either. The legislative session ended before any movement was made on gambling expansion in the state. Now we have to wait until next year before we start talking about iPoker regulation in New York once again.
But not so fast. Sports betting is the darling of lawmakers now and odds are that NY will look into regulating sports betting before they do so for iPoker. The exception is if they decide to create an omnibus bill and regulate multiple forms of online gambling, including online poker.
New Jersey and Delaware are already offering sports betting. Pennsylvania, West Virginia and Rhode Island will probably be online later this year. Massachusetts and Connecticut are debating the issue.
Unless online poker is grouped together with sports betting, we probably won't hear much about it next year.
Zero Applications for PA iGaming Licenses
Remember how Pennsylvania is supposed to be a catalyst for iGaming expansion in the United States? It probably will be eventually, but first, they have to get on the stick and get online themselves. However, according to a report from Online Poker Report, the Pennsylvania Gaming Control Board has yet to receive an application from PA casinos.
As the article pointed out, the reason for the lack of applications may be the fee. For the first 90 days, casinos have to pay a $10 million fee that gives them the right to offer online slots, table games, and online poker. Afterward, they can pick one of the options for $4 million.
What does this mean? PA casinos may just choose to offer online slots or table games and forego online poker. With the high tax rates imposed by the states, online poker may not be a viable option.
One thing to also consider is that outside entities can apply for any licenses that casinos fail to claim after 120 days. Again, it will still be more profitable for companies to skip online poker but outside companies may be able to tap into untapped market share should PA casinos choose to skip online poker.
Right now we simply don't know what will unfold in the market. The high tax rate along with other uncertainties are cause for concern. However, with states pushing the envelope for sports betting, Pennsylvania will likely be forced to move forward with iGaming in an effort to stay competitive.
bottom corner