top corner
NJ iGaming Sites Told to Leave Australia or Lose Their License
34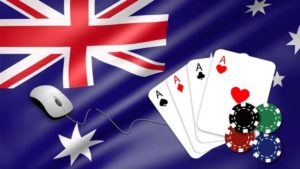 Australia is serious about ensuring that online gambling companies stop offering services to their citizens. The Australian Communications and Media Authority (ACMA) recently took an unusual but logical step in ensuring that companies heed their ban. They contacted the NJ Department of Gaming Enforcement (DGE).
Richard Bean, Acting Chairman of the ACMA, contacted DGE Director David Rebuck in mid-September and asked if he would help them ensure that online gambling companies doing business in New Jersey adhered to the new gambling regulation in Australia. Rebuck was swift to issue a letter telling NJ online operator to "stay out of Australia."
Smart Move by ACMA
Honestly, this was a brilliant move by the ACMA as the regulatory process in New Jersey has been globally publicized and is considered to be the base blueprint for regulating online gambling in the United States.
The ACMA realizes that New Jersey can, and will, take serious actions against online gambling operators that continue to operate in Australia now that all forms of iGaming are explicitly banned.
DGE Direct David Rebuck sent out a letter on September 29 detailing the Australian regulations and reminding licensees about an April 2016 Bulletin that clarified the Division's stance on companies operating in "Grey Market" areas. For those that haven't read the memo, any company operating in a grey market will be considered unsuitable as the Division considers those to be black markets.
Since Australia has officially made themselves a black market, then NJ licensees must adhere to these laws or they will lose their license.
Companies Have Until October 20 to Comply
In the letter issued to licensees, Rebuck gives companies 15 business days to prove that they are complying with Australian regulations. In addition, they want a full explanation of any continued operations in Australia. This even includes sports betting and social gaming which are not specifically licensed by the DGE.
Since the letter was dated September 29, companies have until October 20 to comply with Rebuck's request. Rebuck told companies that failing to discontinue online gambling operations in Australia may "result in the Division taking regulatory action against your company, including finding your company unsuitable for licensure in New Jersey."
IGaming Companies Wanting to Do Business in the US Need to Pay Attention
Any companies that are considering doing future business in regulated iGaming markets should heed the warning that Rebuck gives to NJ operators. Future regulated markets will pay close attention to which companies operated in black market areas and especially to those that didn't heed the regulations set forth by the Australian Parliament.
Failing to adhere to the Australian iGaming ban will result in those companies being market as "bad actors," meaning they will not be eligible to operate in regulated US markets. Major companies such as partypoker, 888poker and PokerStars have already pulled out of the country. Other companies that haven't already left the region should consider doing so if they hope to operate in a US regulated marketplace.
It will be interesting to see if any current NJ licensees are forced to give up their license over the matter. Multiple online casinos in New Jersey do business with companies that have potential ties to Australia in one form or another. This could result in some game replacements by casinos in upcoming weeks.
We find it unlikely that any companies will try and intentionally ignore Rebuck's warning. At worst, we could see them requesting an extension to finalize any pullouts or restructuring of services provided. If there are any major developments on this story, we will be sure to provide updates.
bottom corner