top corner
Negreanu Posts Second Straight Losing Year in Live Poker
Negreanu Posts Second Straight Losing Year In Live Poker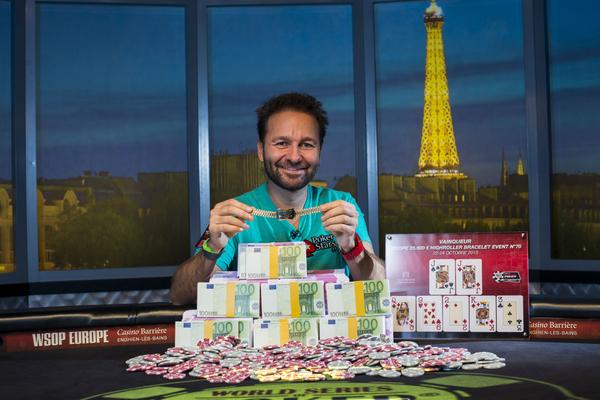 There are few poker players that actually reveal their true earnings at the poker table over the course of any given year. We often only hear about their earnings and many fans never consider the true costs involved.
Daniel Negreanu posted late last week on his blog at Full Contact Poker regarding his earnings for 2017. He stated that it was "a good illustration of the illusion that players cashing for $2 million in a single year is a great accomplishment."
Despite cashing for over $2.79 million for the year, Negreanu revealed that he is actually a net loser for 2017.
Negreanu Finishes 2017 Down $86,140
Negreanu broke down his 2017 for players, giving them complete stats on his tournament earnings. He played in 71 tournaments, cashing in 21 of them. He spent $2,874,164 in buy-in and earned $2,792,104 for a net loss of $86,140.
Negreanu further broke it down stating that his average buy-in was $40,481 and his hourly rate was a -$144.
What may surprise some is that this is Negreanu's second straight losing year. In 2016, he lost $1.24 million in poker tournaments after buying in for $1.54 million and just cashing for $300,000.
One thing that should be noted is that these figures don't include any expenses incurred by Negreanu in his poker travels. Granted, he is sponsored by PokerStars and Poker Central, but they likely don't cover the entirety of his expenses.
Negreanu also noted that his earnings revealed were exclusive to any deals he has with companies like PokerStars and Poker Central. Rather they are merely a reflection of his play in live tournaments.
The Cost of Poker is Going UP
Negreanu spoke about what 2018 will look like for a lot of top pros who chase the High Roller tournaments around the world. He says that between the Super High Roller Bowl, the $1 Million Big One for One Drop and other global tournaments, some players will accrue over $5 million in buy-ins for 2018.
To give you an idea of just how crazy of a total that is, consider that only 194 people in the history of poker have won more than $5 million in their careers.
As Negreanu pointed out, many high stake players will sell pieces of their action or have someone stake them. He even pointed out that the is thinking about selling 50% of his action in next year's $1 Million One Drop event because of the insane price for a single event.
Considering the popularity of High Roller and Super High Roller tournaments around the world, this is a trend that we can expect to continue for the near future.
Negreanu Still Up $8.7 Million Over Last Five Years
One final stat to note about Negreanu's win rate is that of his total profit over the last five years. He listed his 5-year stats at the end of his blog and revealed that he is up $8.73 million. He had $10.32 million in buy-ins with $19.062 million in cashes. That's around 54% of his career earnings in live tournaments.
Most of his profit came from 2014 when he finished second in the $1 Million Big One for One Drop behind Dan Colman. That event alone earned him $8.28 million and helped him finish up $7.1 million on the year.
Negreanu is presently #1 on Poker's All-Time Money List with $35.31 million in earnings. Even if the rest of his career earnings line up with the past five years, it's safe to assume that Daniel is financially secure for the foreseeable future – something that few poker pros can claim.
bottom corner