top corner
Michigan iGaming Could Launch by October
2355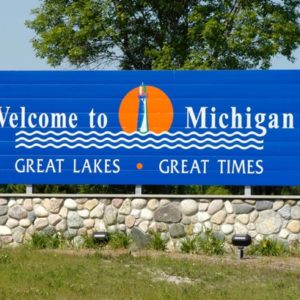 We all know that Michigan is the sixth state to legalize online casino gambling and online poker. However, they are still a ways away from actually launching. However, it appears that the launch may be sooner than even lawmakers anticipate.
Recent reports reveal that Michigan lawmakers are looking to speed up iGaming rollout in the state. Their efforts may not be necessary as the Michigan Gaming Control Board looks to be expediting the rollout. If things go according to plan, iGaming in Michigan may be online in October.
Lawmakers Look to Bypass Licensing Process
Last week, Michigan State Senator Adam Hollier filed S 969 in an effort to expedite the iGaming rollout in the state. Hollier represents Detroit and is looking to help state casinos reduce the impact caused by the COVID-19 shutdowns.
If passed, online casinos would be able to launch iGaming without going through the full licensing process. While the process is already underway, it is not a fast process and the MGCB put a rough estimate of mid-2021 before iGaming would launch in the state.
Based on the legislative calendar for Michigan, the soonest that we could see a bill passed is September due to various breaks. Then it has to go to the Governor for approval. In the end, lawmakers may not need to do anything as it appears that the MGCB is looking to speed up the process.
Michigan iGaming Could Launch By November
According to reports, Michigan is already looking to expedite iGaming and has set a new timeline for launch. Originally around 373 days, the new calendar would allow iGaming to launch in just 250 days. The key lies with the Joint Committee on Administrative Rules and their approval of regulations.
Normally, the process takes 15 session days to complete. However, if the committee will agree to waive their normal review period, the process can be completed in just two days. If this is successful, then online gambling, including sports betting, could be launched as early as October.
According to MGCB Deputy Director David Murley, "Everyone seems to be working toward getting this launched sooner rather than later. I think there's a general feeling that commercial casinos, tribal governments, the executive branch, and many legislative leaders want to move these rules along. Right now, the way we're moving, the month of October is realistic to get the rules to the legislature and get licensing done as well."
Is Interstate Online Poker on the Horizon
Online Poker Report was one of the groups reporting on this story, but in their report, they also revealed that Michigan lawmakers are looking to legalize interstate online poker. Sen. Curtis Hentel Jr., one of the key figures in getting the Lawful Internet Gaming Act passed, has issued a new bill to address interstate online poker.
Under the measure, the MGCB will be able to strike interstate compacts with other states, including Indian nations, to facilitate online poker. This was mistakenly omitted from the original bill. Hertel admits that the legislative process moved so fast in legalizing online poker, they overlooked this point.
State Senator @CurtisHertelJr is also working on supplemental legislation that would expressly authorize multi-state poker in Michigan. https://t.co/3RCbB46hOn

— OnlinePokerReport (@OPRupdate) June 23, 2020
Should the bill pass, Michigan could join Nevada, New Jersey, and Delaware in the interstate online poker network. WSOP.com is the primary vehicle for the network, so it is likely that we will see WSOP.com Michigan should this bill pass.
We do find the inclusion of Indian nations as a potential partner interesting as other states have neglected to pursue this avenue. Pala Poker could be a potential partner for this endeavor, which would open a second interstate network. Pala Poker already operates in New Jersey, so the network would be viable almost immediately.
The good news in all of this is that Michigan is looking to expedite online gambling's launch, which will benefit both players but also the casinos looking to bounce back after the COVID-19 shutdowns.
bottom corner