top corner
Michael Mizrachi Make History With Third Poker Player's Championship Victory
559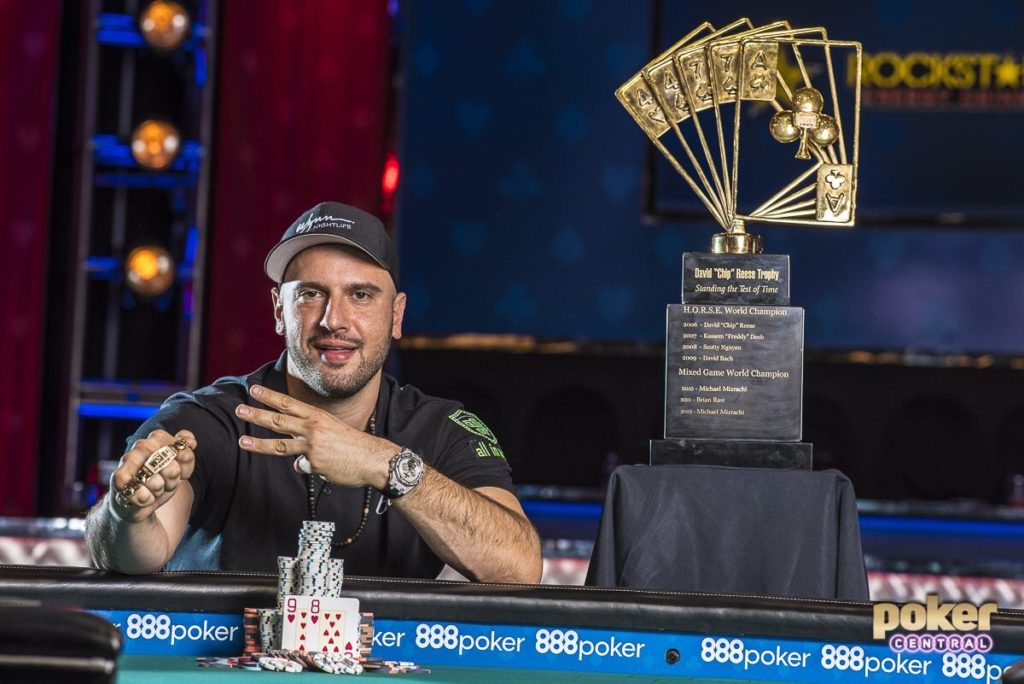 Those in attendance at the $50,000 Poker Player's Championship on Tuesday witnessed history. Michael Mizrachi dominated the final table and continued his insane run to win his third PPC title and fourth career WSOP bracelet.
The final table of the PPC included six fantastic poker players and five bracelet winners. Mike Leah came into the final table as the short stack. Benny Glasser was looking to win his fourth career bracelet. John Hennigan is a former winner of this event and was looking to win his sixth career bracelet. Dan Smith was looking to win his first career WSOP bracelet.
Mizrachi Never in Any Serious Danger At Final Table
Michael Mizrachi had a four million chip lead heading into the final table of this event and he was never in any serious danger at any point at the final. Mike Leah came into the final as the short stack but somehow managed to work his way up the ladder to finish in fourth.
With three players left in the event, it appeared that it was anyone's game. Mizrachi had temporarily lost the chip lead to Hennigan and Smith was only 5 big blinds behind. But like so many other times during this tournament, Mizrachi found a way to turn on the afterburners and ended up taking a 3 to 1 chip lead over his opponents.
Smith soon found himself as the odd man out as both Mizrachi and Hennigan took portions of his stack and eventually left him with under two big blinds. He put the rest of his chips in during Limit Hold'em on a draw but John Hennigan ended up catching a pair of aces with Ah-Kd.
We are down to the final two players: Michael Mizrachi vs. Johnny 🌎 Hennigan. Dan Smith is out in 3rd place for $521,782. https://t.co/UzuhdK1rS2

Heads-up counts:
– Mizrachi: 12,145,000
– Hennigan: 9,605,000 pic.twitter.com/auZs3PjU4c

— PokerNews Live (@PokerNews_Live) June 20, 2018
Mizrachi Defeats Hennigan to Win Third PPC Crown
At the start of heads-up play, Mizrachi held 12.14 million to 9.6 million for Hennigan. Hennigan quickly pulled within 2 big blinds of Mizrachi during Limit Hold'em but things changed dramatically during 2-7 Draw.
The turning point came during a hand that didn't go to showdown. Mizrachi called a pre-draw raise and drew three to Hennigan's one. Mizrachi then check-called a bet from Hennigan and both drew one again. Mizrachi then check-raised Hennigan who folded.
A couple of hands later, Mizrachi took almost a 3 to 1 lead after pulling a 9-6-5-3-2 to win a 2 million chip pot. Soon after, the game switched to NL Hold'em and the event was over with shortly thereafter.
In the final hand, Hennigan three-bet to 750k and Mizrachi called to see a flop of Qh-9s-5h. Hennigan bet 700k and Mizrachi raised to 2 million. Hennigan shoved and Mizrachi insta-called. Hennigan showed Jd-10c for an open-ended draw and Mizrachi showed 9h-8h for middle pair and a flush draw.
The turn 10h gave Mizrachi a flush and that was the ballgame. Johnny World Hennigan finished in second place earning $765,837. While Hennigan did not win the title, he will move into the lead for WSOP Player of the Year.
Omg he won it all!! Can't believe it! #TeamMizrachi #WSOP pic.twitter.com/kJUBiU8pB7

— Eric Mizrachi (@EricMizrachi) June 20, 2018
Considering the amount of poker talent in this tournament, it is tough for a player to win one of these events. Michael Mizrachi has now won three Poker Player's Championship titles. It is quite possibly one of the greatest feats in the history of poker.
In addition to winning his fourth WSOP bracelet, Mizrachi also won the Chip Reese Memorial Trophy and $1,239,126 in prize money. Mizrachi's win puts him in the same conversation as other WSOP greats such as Stu Ungar and Johnny Chan for the greatest performers in WSOP history.
With this win, Mizrachi has $16.9 million in live tournament earnings, good for 27th on Poker's All-Time Money List. He is also #2 on Florida's All-Time Money List and about $3.1 million behind Jason Mercier for second.
Photo Credit – Poker Central
bottom corner