top corner
Michael Mizrachi Leads 2018 WSOP Poker Players Championship Final Table
556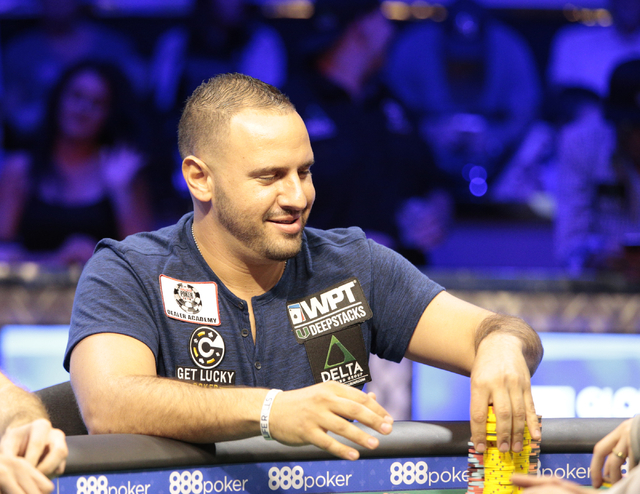 The final table for one of the most prestigious events of the World Series of Poker is set. Michael Mizrachi is leading a final table of the game's best players into final table action in the $50,000 Poker Player's Championship on Tuesday. He holds a massive lead over the rest of the field and is looking to become the first player in WSOP history to win three PPC titles.
Phil Ivey and Shaun Deeb Among the Players Falling Short of Final Table
The 2018 WSOP Poker Player's Championship drew a solid field of 87 of the game's top players. Most of the game's elite players took their shot at the event with many players such as Daniel Negreanu, Justin Bonomo, Anthony Zinno, and Eli Elezra falling short of the money.
Only 14 players made the money in this event with Mike Gorodinsky becoming the final table bubble boy. He was knocked out on the stone bubble when he ran pocket kings into the pocket aces of Mike Leah during an NL Hold'em round.
Stone bubbled the 50k with KK to AA in NL to put a magnificent cherry on top to the most painful summer of my career. 🤷‍♂️ 💀

— Mike Gorodinsky (@gordoMG) June 18, 2018
Only 14 players made the money and the bubble burst late Sunday Night. Play resumed on Monday with 12 players looking to make the final table. Among the players that fell short of the final table were Jean-Robert Bellande (12th), Shaun Deeb (10th), Phil Ivey (9th), and Brian Rast (8th)
Greg Mueller was this event's final table bubble boy. On a board of Qh-7h-4c-Jc-Kd, Michael Mizrachi bets enough to put Greg Mueller all-in. Mueller showed surprised stating that if Mizrachi could be, he was probably out of the tournament.
Mueller finally called and Mizrachi showed 10c-9s and a straight. Mueller showed pocket jacks, having turned a set. He left the table to collect $144,049.
Michael Mizrachi Takes Massive Lead Into Final Table
Michael Mizrachi is looking to become the first player in WSOP history to win the PPC three times. He is in great shape to do so after amassing over 8.86 million chips. That's almost double the 4.48 million of Dan Smith, his next closest opponent.
Recap: Michael Mizrachi is seeking his third Poker Players Championship title with six remaining in the $50K PPC https://t.co/ddDV5kAkkS pic.twitter.com/gXMbvIGE1r

— PokerNews Live (@PokerNews_Live) June 19, 2018
Mizrachi is not the only former winner at this final table. John Hennigan is a prior winner of this tournament and has 2.4 million in chips going into the final table. That's good for fourth.
Dan Smith, Aaron Katz, Benny Glaser and Mike Leah are all looking to win this event for the first time.
Just to highlight the amount of talent at this final table, there are a combined 11 bracelets between the final six. Dan Smith is the only player that hasn't won a bracelet.
Mike Leah has the toughest road ahead of him as the short stack. He is under 10 big bets and will have to be active or get lucky early to have a legitimate shot to win this title.
Below are final table chip counts:
Michael Mizrachi – 8,865,000
Dan Smith – 4,485,000
Aaron Katz – 2,600,000
John Hennigan – 2,400,000
Benny Glaser – 2,210,000
Mike Leah – 1,220,000
The remaining players have locked up at least $191,234 in prize money. The top three spots will receive massive paydays with third earning $521,782, second receiving $765,837 and the eventual winner getting $1,239,126.
In addition to winning over $1.2 million, the eventual winner will receive both a WSOP bracelet and the Chip Reese Memorial Trophy. The trophy honors the first-ever $50,000 WSOP event winner. Chip Reese won the $50,000 HORSE event back in 2006 and passed just over a year later.
Photo: The Chip Reese Trophy awaits the winner of the #WSOP $50,000 Poker Players Championship event. pic.twitter.com/wILCzpYdqD

— BLUFF.com (@BLUFFMedia) July 4, 2013
Now a trophy honoring Reese and his winning hand from the first ever $50k event is awarded annually. The winner of each event is inscribed on the trophy.
Mizrachi is looking to get his name on there for the first time while Hennigan is looking for his second PPC title and 6th career bracelet. Tomorrow promises to be an exciting day of action and we'll provide you a recap once a winner is crowned.
bottom corner